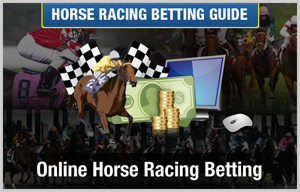 There's no easier way to bet on horse racing than to use the internet. The only possible exception is when you're actually at a racetrack and watching the races in person. Using an on-course bookmaker might be the better option in that scenario, but even that's up for debate. There are plenty of other good reasons to bet online in addition to how easy it is.
It's our considered opinion that betting online is THE best way to place wagers on horse races. And we're not alone in thinking this way, as online horse racing betting is incredibly popular. Millions of people all over the world use horse racing betting sites to place their wagers. They can't all be wrong, can they?
Despite the popularity of online horse racing betting, there are some people who are reluctant to bet in this way. This is usually because they don't really understand what's involved, or have questions that they can't find the answers to. We're here to solve BOTH these problems.
This short guide to online horse racing betting explains everything you need to know about betting in this way. It's presented in a question and answer format, as our experience tells us that most beginners to online betting ask the same questions. So we've picked the ones that we're asked most frequently and provided detailed answers. We've also answered some related questions where appropriate, and linked to additional information if required.
How does online horse racing betting work?
The mechanics of online horse racing betting are very straightforward. First, you need to join a suitable betting site. Then you need to deposit some funds at that site. Both these things are easy to do, and we explain HOW to do them further down the page
Once you have a funded online betting account, it's then just a matter of finding the race you want to bet on. Most sites display a list of the tracks where races are taking place on the current day, so that you can select a track and view all the upcoming races. Here's an example.

Sites usually also display a list of the next few upcoming races, as you can see from this example.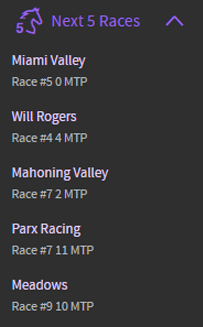 Once you've selected a race to bet on, you'll be presented with a screen like this.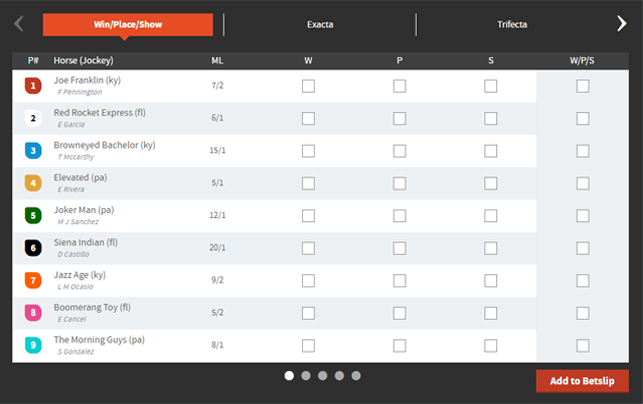 Here you can see all the runners in the race, and the current odds. You now have to select the horse(s) you want to bet on, and the type of wager(s) you want to place. Your wager(s) will then be added to your bet slip. Once you've entered the amount you wish to stake, and hit confirm, your wager(s) will be placed automatically. The relevant sum of money will be deducted from your account at this point, and any winnings from successful wagers will be credited into your account.
That's basically all there is to it. We did say it was straightforward!
Which horse racing betting sites are the best?
This is the question we get asked more than any other listed on this page. We're not surprised by this, as there are TONS of sites that offer horse racing betting services. It's extremely difficult to know which ones to use unless you know what you're looking for, and most people don't.
The easiest way to find the best horse racing betting sites is to simply check out our recommendations. We've listed a selection of top sites that we believe provide the best overall service.
BEST HORSE RACING BETTING SITESAs recommended by play-casino-games-now.com
If you'd prefer to try and find a site by yourself, we can help with that too. We've written an article that explains how to go about researching the various different options and picking one that's right for you.
What are the advantages of betting online?
Online betting offers several advantages over the alternatives. We've already mentioned how easy it is to do, and that's just the start. Additional benefits include the following.
Very convenient
Better odds
Extensive coverage of racing around the world
Wide variety of betting options
Bonuses and rewards
We've explained all about these advantages, and others too, in the following article. You should definitely read this if you're not yet sure whether online betting is for you. You might not be convinced either way, but at least you'll know what you're missing out on.
Is it legal to bet on horse racing online?
This is another question we get asked a lot. Unfortunately, we can't provide a definitive answer. This is because the laws relating to online betting vary from one region to the next. In some regions, it's not even clear whether it's legal or not.
We know this isn't an especially useful answer, but we can still help you. There's a section of our website that's dedicated entirely to online gambling laws. Here we've explained all about the relevant laws and legislation that apply in different parts of the world. A quick look at this section should tell you what you need to know.
Is it safe to bet on horse racing online?
Yes. It's COMPLETELY safe, providing you only bet with sites that are reputable and trustworthy.
Legitimate betting sites are not going to rip you off, or cheat you in any way. They'll make sure that your funds and personal details are well protected, and they'll do their best to prevent any unauthorized access to your betting account. There's no reason at all why your safety should be compromised.
Related Questions
How do I know if a site is reputable and trustworthy?
It's difficult to know for sure, but checking that they're properly licensed by a reputable licensing authority is a good start. You can also do a Google search for any negative reports or complaints. Even better, you can just stick with the sites that we recommend. They're all 100% safe to use for sure.
How else can I protect myself when betting online?
Using a reputable and trustworthy betting site is the most important step you need to take, but there are others too. Installing security software on any devices you use to bet with is one example, and there are more in our article on online betting safety.
How do I sign up with a horse racing betting site?
Signing up is a simple process at most sites. You usually just have to complete a form with a few personal details. Your account will be created automatically, and you'll then be able to deposit and start betting.
Here's an example of the kind of form you'll have to complete.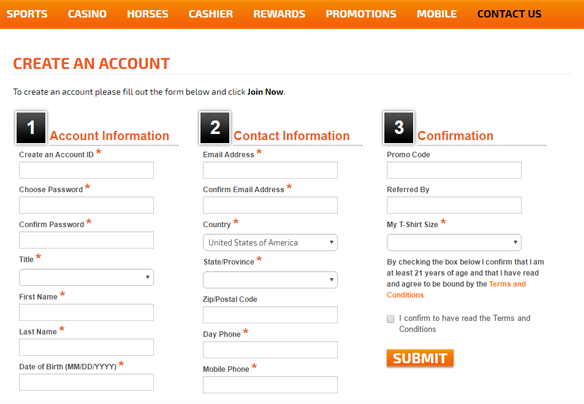 As you can see, there isn't a huge amount of information required here. It's mostly just basic stuff that you should be able to provide within a couple of minutes.
There's just one other thing we should mention about signing up with betting sites. Do you see the little check box above the button in the bottom right corner? You'll have to tick this before you can sign up, and it means that you're agreeing to the relevant terms and conditions. PLEASE take the time to read these terms and conditions. They're perfectly reasonable at most sites, but it's vital that you know what you're agreeing to. If there's anything you're not comfortable with, or unsure about, be sure to contact customer support before going ahead and signing up.
Related Questions
How many sites should I join?
One site is probably enough if you only bet on horse racing every now and then. If you bet quite frequently, however, you should consider joining two or three. Then you can compare the odds at each site before placing your wagers, and make sure you get the best possible value. You can also benefit from multiple sign up bonuses this way too.
What are sign up bonuses?
Sign up bonuses are incentives that most betting sites offer to new customers to encourage them to sign up and make a deposit. They are usually in the form of either extra funds added to your account, or some free credits to bet with. They're don't tend to be worth huge amount of money, but they provide a bit of extra value and are definitely worth having.
How do I deposit at horse racing betting sites?
Depositing at betting sites is almost as easy as signing up. You need to be logged into your account, and then look for the "Cashier" button. When you click that you'll be taken to a page where you can select your preferred deposit method. Common options include the following.
Credit card (Visa, MasterCard etc.)
Debit card
E-wallet (such as PayPal, Neteller or Skrill)
Bitcoin
Once you've chosen which method to use, you then have to enter the relevant payment details. So if you chose credit card, for example, you'd have to enter the credit card number, the expiry date, and the CCV code. Then you have to enter the amount you wish to deposit, and hit confirm. Funds are usually added to your account instantly.
Most betting sites also offer some alternative options to the ones listed above. These include money transfer services such as MoneyGram and Western Union, checks and bank wire. The process for these options is generally a little more complicated.
Related Questions
Are deposits subject to a fee?
Rarely. Most betting sites process deposits free of charge. You might incur a fee from your card provider for credit card deposits though. They tend to go through as "cash advances", which typically attract a 1% or 2% charge.
What's the minimum I have to deposit?
This depends on the site, but it's usually pretty low. $10 is pretty much the standard, although it's often higher for deposits via check, bank transfer or money transfer.
What's the maximum I can deposit?
Again, this depends on the site. It's usually high enough for most people though. And sites are generally pretty flexible if you want to deposit amounts higher than the standard maximum anyway. You just have to get in touch with customer support.
How long until I get my winnings?
Not long. Most sites are pretty good at getting withdrawals processed and sent out within a reasonable period of time. The exact timeframe will depend on which site you're using though, and also where you live.
If you live in the United Kingdom, for example, you can usually can expect to get your winnings within a day or two. If you live in the United States, you might have to wait more like a week. This is simply because of the .  It might not seem fair, but that's just the way it is unfortunately.
There's now just one final question to cover on this page, and this time it's us doing the asking. Did you get the answers you needed here? We sure hope so, but if you didn't then please don't hesitate to contact us. We're always happy to help our readers in any we can.