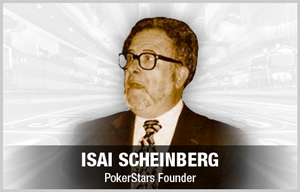 Isai Scheinberg is the founder of PokerStars, which is considered today to be the largest online poker site in the world.
Along with other members of his family, he holds a 75% share of PokerStars and is still involved with the company currently. He lives on the Isle of Man, located in the Irish Sea, where the company headquarters are located.
Not a huge amount is known about Scheinberg as he is intensely private, and he doesn't give interviews to the media.
His propensity for privacy is so intense that when PokerStars published an account of its history, to mark its 10th anniversary, he wasn't mentioned once. Below we have provided a brief bio of Scheinberg based on the information that's available now.
We have also provided a complete history of PokerStars.
About Isai Scheinberg
Scheinberg was born in 1946 or 1947 and was raised in Lithuania. He's an Israeli-Canadian and is fluent in Hebrew. He graduated from Moscow State University with a master's degree in mathematics and went on to serve in the Israeli Defense Forces.
After his service in the military, he worked for IBM in Israel before moving to the company's Canadian office.
He settled in the Richmond Hill area where others believe he spent a portion of his free time playing poker.
It has also been said that he sometimes found himself up against Daniel Negreanu, a well-known poker professional and part of Team PokerStars. In 1996 Scheinberg achieved a cash-in at the World Series of Poker in one event. It's possible that his love of playing poker was a small part of his inspiration for launching an online poker room.
Criminal Charges Filed
In 2011, the United States Department of Justice seized the domains of the three top U.S.-facing poker sites, including Poker Stars.
This event, known in the online gambling world as Black Friday, changed the landscape forever. For Scheinberg, it also meant criminal charges of money laundering and bank fraud. He and the company had no choice but to stop taking U.S. players; however, this did not impact PokerStars as much as the other two sites, as Scheinberg had been investing heavily in global expansion for the company.
Ultimately, PokerStars reached an agreement to settle with the DoJ, agreeing to pay a whopping fine of $765 million.
As part of the agreement, Stars agreed to cover the balances of the players at their biggest competitor, Full Tilt Poker. During this time, it was determined that Full Tilt did not have any of the players' money, meaning there were no means to pay them back. In essence, the U.S. Government was able to do what Scheinberg could not: kill off its biggest competitor.
As for Scheinberg, the personal charges remain. At some point it is likely they will be dropped and he will simply reach a settlement and pay a fine of his own.
However, the bigger issue was his day-to-day dealings with his site. Under the terms of the settlement reached with the US Department of Justice, he isn't able to serve in a management or director role at PokerStars while he's still facing charges.
This means that unless he were to manage the operation from afar, he would not be able to be involved in the company anytime soon.
Moving On
While PokerStars went on to continue to grow and move past the speed bump that was Black Friday, Scheinberg's future was still unclear…at least it was until a white knight came riding in.
In early 2014, rumors started to spread that there was an offer to buy the company. This seemed highly unlikely; the company was moving along great and was still incredibly profitable.
Sure enough, in June 2014, Isai and his son agreed to sell their prized possession to Amaya Gaming for the whopping sum of $4.9 Billion, in cash. It really was an offer too good to be true; they would walk away from the company they had built from scratch, and there would be plenty of cash in the bank for Scheinberg to pay whatever settlement he needed.
For now, there hasn't been much in the way of public sightings of Scheinberg. He seems content in his retirement, having changed the online gambling landscape more than once over the last twenty years. One thing is for sure; even if we never hear from him again, the name Isai Scheinberg will be synonymous with online gambling until the end of time.
PokerStars Beginnings
Towards the end of the 1990s, Scheinberg began developing his idea for a poker site. It was around this time that internet-based gambling was starting to take off and Scheinberg thought he could create something better than all other early poker sites.
He began to assemble a team of programmers, some that he had worked with at IBM and tried to recruit people that were knowledgeable about poker.
At some point in 2000, he sent an email to Terrence Chan who was at the time a student. Scheinberg had found him through an online discussion group, rec.gambling.poker, of which he was a keen reader. Impressed with the poker knowledge Chan showed, Scheinberg asked him to serve as a consultant.
Chan got involved and helped the programmers to develop the poker software. According to Chan, Scheinberg was absolutely convinced that with world-class software and a high standard of customer service, he could be successful.
Scheinberg also recruited his son and put him in charge of the office he opened in Costa Rica. He had chosen this location due to its gambling friendly laws. A company, Rational Enterprises, was formed to operate the new poker site and in 2001 PokerStars was launched.
It soon made an impact and people were impressed with the reliability of the software and the fact it appeared to be geared towards more serious players.
Originally customer service was outsourced, but Scheinberg soon made the decision to bring it in-house.
He hired a number of people to answer questions from customers, and deal with complaints, but only one of them had any real knowledge of poker. It was down to Chan to train them. The in-house customer service gave PokerStars an edge over its competitors that were frequently slow to respond to customers.
The Growth of PokerStars
PokerStars experienced significant growth over the following years and in 2005 Scheinberg relocated company headquarters to the Isle of Man. He began to split his time between there and Canada.
By 2006 PokerStars was the second largest poker site behind PartyPoker, and a flotation on the stock market was planned. Then the Unlawful Internet Gaming Enforcement Act (UIGEA) was passed in the United States. This made it illegal for banks to process transactions from US residents if they were related to online gambling.
Many gambling sites, including PartyPoker, pulled out of the US market following the UIGEA. However, Scheinburg's legal advisers told him that they didn't need to change anything. They argued that poker was a game of skill rather than chance, and therefore was not illegal under US law. Scheinberg, although described as a conservative person by former employees, decided not to go ahead with the planned flotation and to continue to operate in America.
PokerStars became the largest poker site as a result of this decision and grew even more over the following 5 years. Scheinburg implemented aggressive marketing and the company expanded in many markets throughout the world, earning him a fortune.
However, according to those that have worked with him, he kept a modest demeanor and still spent a lot of time working. He constantly browsed online poker forums to see what was being said about his company and often made decisions based on what he read.
At the current time, it's believed that he consults for the company primarily on matters of technology and when he's considering entering into new markets.