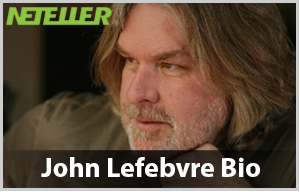 How does a modern-day hippie lawyer from Canada become one of the most influential people in the history of online gambling, only to flame out and end up a protest singer? 
Well, it has been a long, strange trip for John Lefebvre, but if nothing else he has taught us that no matter what walk of life you come from, the online gaming market is yours for the taking.
Let's look at the highlights of Lefebvre's rise and fall.
The Early Years
Well, actually, there isn't much to report on the early years of John Lefebvre's life.  He was born in Calgary, Alberta on August 6, 1951. 
In his early years, he was a free spirit, finding himself wandering the streets of the oil town, turning his love of music into busking for funds around the city.
Realizing that this career choice wasn't going to help feed a family, Lefebvre reluctantly got a law degree and became a practicing lawyer. 
Over his time in the law, the music bug was still in him, and finally, he decided to make more of an effort to realize that dream.  As he writes on his website, "John Lefebvre has, to say the least, a pretty unusual profile for an emerging rock artist. He didn't write his first song until his was 45, and didn't record his first album until he was 56."
From music to…banking?
As we said, it was a long, strange trip for Lefebvre, which led him in 1999 to founding a payment processor called Neteller.
This company, which he founded with Steve Lawrence, was built to create a way to transfer money online easily and securely. People created a Neteller account which had a 16 digit number much like a credit card, but once you funded the account from your personal account, you could use that number just like a credit card as "digital cash."
The uses for Neteller were endless in an emerging online shopping space, but the one industry that really took notice was online gambling. Being able to route money through a third-party meant that the transaction code from Visa was different, usually resulting in far fewer rejections for depositing players. 
This was music to the site operators' ears.
Critical Mass
In 2001, when PayPal was purchased by eBay, they were instructed to dissolve their online gambling payments division in 30 days. 
Since PayPal had been processing a significant percentage of all the deposits and withdrawals, the gaming world started scrambling for an alternative. 
Neteller was the right company in the right place,
and they took on the majority of that traffic jettisoned by PayPal.
Within months, the would-be singer who hated being a lawyer was now swimming in cash and an online gambling baron.
Lefebvre and Lawrence took Neteller public on the London Stock Exchange, and they seemed invincible…
A fateful day in Los Angeles
Having now moved to Malibu to soak up the rays and the "culture," Lefebvre could never have imagined what was going to happen to his life. 
The online gambling world, continuing to grow at an astronomical rate, was about to hit a major roadblock. In 2006, the U.S. Government, in an attempt to control a "rogue" industry, passed the Unlawful Internet Gaming Enforcement Act, essentially making it illegal for banks to process credit card transactions from online gambling sites.
Within days, several of the major players in the online gaming space withdrew from the U.S. market.  There was a clear shift in the space; public companies were leaving the U.S., while private companies were staying in to see what would happen.
This wasn't enough for the Department of Justice; they needed a scalp, a face to put on this new law. 
They found it in Neteller.
In January 2007, Lawrence and Lefebvre were arrested on charges of racketeering and bank fraud.  Ever the chill optimist, Lefebvre did not seem too worried about it all; he figured this was a sign.  He agreed to work with the DoJ on their case, in exchange for a lighter punishment.
At that point, with a lot of time on his hands, he decided to start working on his music again, recording an album of rock songs. 
I wouldn't suggest that he is going to be the next Tom Petty, but at the very least he was able to keep himself distracted during the legal battle.  
In the end, Lefebvre had to fork over approximately $140 million from the company, and almost $50 million of his own personal wealth, and he ended up spending 45 days in prison (a far cry from the potential 20 years that comes with a money laundering charge.)
Moving On
While the gaming world was shocked by what had happened in 2006, Lefebvre just rolled with the punches. 
He ended up focusing even more on his music career; what 56-year-old man has the chance to become a rock star these days? He recorded and released another album in 2010.
Lefebvre also started a blog site focused on global warming topics called Desmogblog.com.  There, he can be found writing and commenting on many issues regarding the climate and the misinformation around global warming.
Read all about it
In 2015, a biography of John Lefebvre was published that focuses mainly on his time in the online gambling world. 
You can read this book to get more detail on the rise and fall of Neteller; Life Real Loud is available at bookstores and online.
Not to be outdone, Lefebvre himself wrote a book that was published in 2017.  All's Well - Where Thou Art Earth and Why is a book of political and moral philosophy; a far cry from the immoral behavior of the company he once ran.
The life of John Lefebvre has been far from an ordinary life; he is an extraordinary spirit whose flame burned fast and bright in the online gambling world. 
His legacy will live on in the many third-party payment processing companies that were born in the wake of the shakeup at Neteller.
For now, Lefebvre is more focused on being a voice for change…just not in the gambling world.