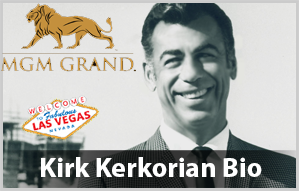 Known to most as the "Father of the Mega-Resort," Kirk Kerkorian will go down in the history of gambling as one of the faces that changed the outlook for the industry, and Las Vegas, forever.
However, Kerkorian was much more than a casino magnate; he had his hands in many other projects, including the entertainment world, which is how he was able to marry them together, creating the first true Hotel/Casino/Entertainment resort.
The Early Years
Kirk Kerkorian was born on June 6, 1917, and is of Armenian American descent – you will see how important that was to him later on in this bio. He was born in Fresno, California, speaking Armenian first and not learning English until he was an older child.
His family moved to Los Angeles in 1920, right in the midst of the Depression. Never one for traditional schooling, Kerkorian dropped out of school in Grade 8, preferring to learn on the streets of the big city.
As the Depression ravaged many families in the United States, the Kerkorian family was hit very hard.
They ended up being bankrupt when their farms lost value, and as a result, the family was often moving from house to house.
This definitely shaped the young Kirk in a couple of ways; as mentioned, moving schools all the time never allowed him to feel comfortable. Also, having seen what happened to his family, he was determined to help his family turn their fortunes around; the entrepreneur was born.
At 16, he decided on boxing as a profession and started to learn to fight. He was pretty good, too: by 20 he had won his first fight and went on to an amateur record of 33-4. However, turning pro wasn't in the cards for Kerkorian; he met someone while training who introduced him to his next love: aviation.
Into the Air
Kerkorian wanted to learn to fly very badly, but of course, the family had no money for this (or anything, really). So, he brokered a deal with the owner of the plane to allow him to work on their farm doing anything in exchange for flying lessons. As a result, the young Kerkorian learned how to fly.
The next step for Kerkorian was to use this new skill to enter the Army. There was one problem, though: he hadn't completed high school, which was a prerequisite for enrolling. His flight instructor pulled some strings and managed to get Kirk a letter stating that in fact, he had graduated from a high school in LA; without that letter, it is hard to say if any of the rest of the story would have taken place.
While that now qualified him for military service, the entrepreneurial Kerkorian decided instead to become a civilian member of the British Royal Air Force, flying planes from their factory in Canada across to Scotland. The journeys were difficult, but he was up to the challenge, and this made Kerkorian very valuable to the Brits; they reportedly paid him $1,000 per flight.
He made 33 of them.
Here Comes Vegas
After the war, Kerkorian returned to Los Angeles and bought a Cessna with which he planned to give flying lessons. Soon after, however, he realized there was a much better profit center for his plane: the chartering of planes to take passengers from Los Angeles to the up and coming city of Las Vegas.
Spending more time in Las Vegas as a result of the work, Kerkorian soon became enamored with the dynamic nature of Vegas, often finding himself in casinos late at night before flying back to LA.
Sensing the potential that the gambling city offered, he bought a small charter airline in 1947 and renamed it Trans International Airlines. The company was a success.
In 1962, he sold the company to Studebaker for $1 Million. That wasn't good enough for him though; he invested most of that money on a plot of land on the Las Vegas Strip. In 1965 he bought back TIA and then leveraged a deal to buy more land on the Strip.
The big jump for Kerkorian is when he leased the land to a group about to build a casino;
that casino is Caesar's Palace.
With that lucrative deal in place (he leased the land for $4 Million before selling it for an additional $5m) and the airline continuing to grow, Kerkorian was well on his way to being a wealthy man.
Next up for him was to sell TIA again, this time to Transamerica for $85 Million in stock. With all this capital, he was ready to reinvest in Las Vegas and wanted to brand the city as a family-friendly destination.
He opened the International Hotel which featured not only a casino but also many children's activities. This was another huge success; he offered shares in the International to raise money to build more, and in 1970 he ended up selling the International and another hotel, the Flamingo, to the Hilton hotel chain.
Gambling and Entertainment Mix
Kerkorian was always in love with the film industry; despite all the success he had in other ventures, it still gnawed at him that he wasn't more involved.
So, in 1969 he borrowed enough money to wrestle control of MGM Studios, and he became the majority owner.
The movie company was not a moneymaker on its own at that point (he did manage to sell pieces of it for significant profit along the way). However, he did leverage the name recognition to open the MGM Grand Hotel and Casino in Las Vegas; it was open for business in 1973.
When it took its first guest,
it was officially the largest hotel in the world.
Unfortunately, tragedy struck the MGM Grand in 1980, when a massive fire killed 87 people. Kerkorian vowed to rebuild, and within 8 months the hotel was open for business once again.
At that time, the Hilton Las Vegas also caught fire, which resulted in a sweeping number of changes to the fire code for buildings of this size.
Selling the Hotel, Keeping the Name
Kerkorian ended up selling the original MGM Grand Hotel and Resort in Las Vegas and in Reno to Bally Manufacturing for $550 million in 1986.
As part of the arrangement, MGM Resorts was spun out of the deal, allowing Kerkorian to continue to acquire land and build more hotels.
Also part of the deal was the retention of the MGM name (the hotel was renamed Bally's). So, back to work went Kerkorian and his architects; the new MGM Grand hotel (in its current location) opened in 1990 and took over once again as the largest hotel in the world.
The growth of MGM resorts ballooned from there, going on to operate the Bellagio, Mirage and Treasure Island (all purchased from Steve Wynn) as well as New York, New York, Monte Carlo and others.
At one point, the company owned over half of the property on the Las Vegas Strip.
Over time, Kerkorian lost his controlling stake in MGM Mirage. However, there is no need to feel sorry for him; the magnate was now a full-fledged tycoon.
Armenia in His Heart
Through all of this growth and accumulation of wealth, Kerkorian never forgot his roots.
In fact, he made it a plan from an early age to give back to his country and people; the result is over 1 Billion in contributions to many organizations along the way.
He started the Lincy Foundation (named for his two children Linda and Tracy), and through that foundation, he helped build infrastructure and educational outposts in his homeland.
The Foundation shut its doors in 2011 after giving 200 million to UCLA.
The End of an Era
Kirk Kerkorian passed away on June 15, 2015, at the age of 98.
While there are even more details of his life that were not covered in this bio,
It is safe to say that his mark has been left on the gambling industry for decades to come, and his vision and tenacity are unlikely to be matched in the space anytime soon.