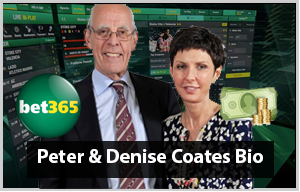 There are many success stories out there about families who come from nothing to build a valuable, profitable business.
Usually, this comes with much turmoil, especially when children get involved with the day-to-day operations of the business; it is family, after all.
In the case of the Coates family, only the first part of that statement is true; this family is tight-knit and has built a sports and gambling empire despite being related.


Denise and John, along with their father Peter,
Have built one of the biggest online gaming brands in the world.
Peter Coates was born into a very poor family in Stoke-on-Trent, England in 1938. This small town was all about their football, with their own Stoke City FC at the top of everyone's minds. Peter's family were not in the bookmaking business; in fact, it wasn't until he was into his thirties that he started to make his move into the business.
Leading up to that, he wanted to be a professional football player, having played at various levels before finally giving up on his dram at 23.
After taking a job at the well-known Wimpy's Diner chain, he moved quickly through the ranks, soon becoming a Regional Manager.
With his feet now wet in business, he moved on to create a catering company that targeted providing food to stadiums; this business grew quickly and merged with a competitor in 1968, making Coates a significant sum of money.
A Turn to Bookmaking
Seeing as he hadn't realized his dreams as a footballer, Coates decided to stay involved in the action by purchasing a series of betting shops and turning them into the brand Provincial racing.
As that business and the catering business continued to increase Peter's wealth, he felt a desire to get close to his home squad; he bought a controlling interest in Stoke City FC in 1989.
Bringing in the Family
His children were busy at university studying and hadn't yet become part of the family business (any of them, actually). After she completed her first degree, she was enlisted to manage the bookmaking business.
She thought the land-based shops the family owned were garbage, but as this was the late 1990's…
Something was brewing with this whole "Internet" thing …and there was opportunity everywhere.
John Coates worked alongside his sister in the betting business, but it was clear that Denise was the driving force of the two of them.
In fact, Denise owns up to the fact that she is the "bossy" one in the family, and this drive led her to bring on a rival group of betting shops into the fold.
So, Who Started Bet365 Anyway?
There have been a lot of stories written that explain that the family business of Bet365 was started by Peter Coates.
This information is false!
It is confirmed by Denise herself in a rare interview (she likes to keep a low profile). Near the end of the millennium, with the Internet Age squarely in our sites, Denise felt the time was right to jump into the uncharted world of internet gambling.
Of course, she was not the only one with this idea. Her competition in the land-based space, Ladbrokes, William Hill and Victor Chandler, were all plotting their own foray into the market.
The difference is that these companies all had very compelling brand recognition; Provincial Racing did not.
So, Coates took it upon herself to change that; in 200, she paid 10,000 GBP from the URL Bet365.com. The family then mortgaged the betting shops to the tune of 15 Million GBP, and bet365 was born.
How to Differentiate
The marketplace was competitive, and in the UK it was vicious. Coates needed to make her mark to stake out her position. Having the name Bet365 made sense; her idea was not to have the book be an extension of the land-based business but to change the thinking about gambling.
She wanted players to know that they could bet 24/7, 365 days a year.
Coates didn't stop there. To combat the online sites with no land-based presence, she made it perfectly clear that Bet365 had live shops, where players could come and get service even on their online accounts.
That kind of accountability allowed the company
to get a foothold in the market and start generating revenue.
Don't Stop at Sports Betting
Bet365 is known as one of the pioneers in the gaming industry
when it comes to running a full-scale, multi-product betting business.
They were one of the first companies to add casino, bingo, and poker to their site; Denise believed in the one-stop-shop mentality long before many of her competitors.
Also, the company was far ahead of the curve when it came to both mobile compatibility and in-game betting.
Add this all up, and you have a company that had gone from having to put the betting shops up as collateral on a loan to Coates being able to sell those very shops to Coral for 50 Million in 2005.
This move allowed Coates to focus her full attention on the online business and increasing its profitability.
What Goes Around, Comes Around
Peter Coates relinquished his seat as Chairman of Stoke City Fc in 1999 when he sold his shares for a few million pounds.
With the growth of the online business and the cash from the sale of Provincial Racing's betting shops, Denise was able to bring that stake in Stoke back into the family.
In 2006, Bet365 bought back the shares they had sold, and they reinstated the senior Coates as Chairman.
There is no doubt that this has been a family affair; what is abnormal about this rags-to-riches story is how hard it is to find information about it.
The Coates family is fiercely private; even though Peter and Denise are billionaire owners of an English soccer team, they never flaunt it; in fact, you would be hard-pressed to notice Denise at any of the Stoke City games even if you had her picture.
This is a refreshing change from many of the egomaniacal owners of competing online betting sites.
We all love our family, but it's likely Peter Coates has a bigger soft spot for his daughter than anyone given her prowess, foresight, and tenacity in starting Bet365 and growing it into the juggernaut it is today.