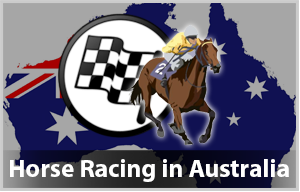 Thoroughbred horse racing is an exceptionally popular sport in Australia, with only Australian football and rugby league commanding higher attendances in the country.
There are over 300 racecourses, more than any other country in the world, and only the United States can claim to have more horses starting races every year.
Australia is also third in terms of the amount of prize money awarded annually, behind the US and Japan.
The vast majority of racing is on the flat, just like in the US, but in Victoria and South Australia there is some racing over fences and hurdles. As with other nations where horse racing is popular, betting on the sport is commonplace and an important part of the sport.
We have provided a range of information on horse racing in Australia, covering topics such as its history, its regulation, the betting, and the major races. You can find this information below, with links to additional pages where relevant.
History of Horse Racing in Australia
Horse racing was one of the earliest sporting activities to take place in Australia. When British ships arrived in the country to establish a new colony they brought horses with them, and it wasn't long until races were taking place and further horses were imported. It was a few more years until organized racing took off though.
The first officially sanctioned race was held in 1810, at Hyde Park in Sydney. Racing was already a popular activity in a few parts of the country, but it was relatively informal up until that point.
Subsequently, it became much more organized and spread to most of the populated regions within Australia.
The Australian Jockey Club was founded in 1842 and a number of other racing related clubs and organizations were also formed. There were a number of stud books created for specific regions and these were then replaced in 1878 when the Australian Stud Book was created.
This body is still responsible for maintaining the Thoroughbred breed registry in the country today.
By the start of the 20th century horse racing was firmly established as part of Australian sporting culture and it has continued to grow ever since.
Regulation of Racing
There are several regulatory bodies for horse racing in Australia. Ultimate responsibility sits with the Australian Racing Board (ARB) which, among other things, enforces the nation's rules of racing. The Australian Stud Book and the Registrar of Racehorses, although independent, report to the ARB.
Another important organization is the Australian Pattern Racing Committee,
which is responsible for grading races.
There are also the Principle Racing Authorities and these manage the sport at a state level. Each state also has a Principal Club, and some of them have other official clubs as well, which organize the races taking place in their region.
Betting on Racing
Betting is an important part of horse racing in Australia, and a significant reason for its popularity. There are several ways that you can place wagers in the country, both on and off the courses.
On course you will find licensed bookmakers offering fixed odds betting and Totalisator Agency Boards (TABs) offering parimutuel betting.
TABs can also be found off course in many different locations, even including pubs and bars. There are a number of telephone betting services that can be used to place wagers too. In relatively recent years, the most popular way to bet has been to use the internet.
Betting online is easy, fast and convenient and there are many gambling sites that accept wagers on horse racing. These offer a few advantages to traditional forms of betting but it's important to use one that is reputable and trustworthy.
Major Horse Races in Australia
Australia is home to a number of major races each year. Most notable is the Melbourne Cup, known as the "race that stops a nation" such its popularity. This race gets attention from all over the world and has one of the largest prize pools in Thoroughbred racing.
We have provided further details on the Melbourne Cup and some of the other important races on the following pages.