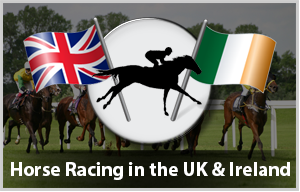 Horse racing is one of the oldest, and most loved sports in the United Kingdom and Ireland. In the UK it's behind only football as the second largest spectator sport.
It takes place all the way through the year in its different formats and even at the lower standards it consistently attracts a great deal of attention. Its popularity is largely due to the involvement of betting, but it 's exciting in its own right as well.
Below you will find further information relating to horse racing in the UK and Ireland, along with links to additional articles we have written on the subject.
We've covered its history, the different types, and the betting. We have also provided details of several of the major races that take place in this part of the world.
History of British Horse Racing
Horse racing has taken place in one form or another for hundreds of years in Britain. It was not until the 17th century that it became a formally organized sport though. Royalty has played a big part in how it has evolved, which is primarily why horse racing is known as the sport of kings.
Over the years there have been a number of key developments which have helped the sport of horse racing grow to the size it is today.
Particularly significant were the introduction of televised races and the legalization of off-course betting. There have also been some setbacks over the years too.
Types of Horse Racing in the UK & Ireland
The vast majority of horse racing in this part of the world can be divided into two categories – flat and National Hunt. Flat racing, as the name suggests, takes place on courses that are flat and have no obstacles.
National Hunt racing takes place on courses that do have obstacles, typically in the form of hurdles and fences.
Besides the obvious distinction, there are a number of other differences between these two formats. The flat is considered more prestigious by many, but jumping is often thought to be the more entertaining.
Flat horses tend to peak a lot earlier in their lives than jump horses, which typically compete until they are much older. There are also some differences in the rules and the way races are classified.
We have provided more detailed information on each of these two types of racing on the following pages.
Betting in UK & Ireland
Betting is integral to horse racing, and it's highly unlikely the sport would exist without it. Betting firms that take wagers on horse racing are all subject to a levy, the proceeds of which are used to fund prize money and various improvements to the sport.
Many betting firms also spend a great deal of money on sponsoring races and meetings, which is used for the same purposes.
The betting is also key to the enjoyment of horse racing for most fans of the sport, although there are of course some that enjoy it purely for love of the sport.
The majority of people that bet on horse racing due so recreationally, but there are also plenty of people that take it very seriously and even some that make a living out of it.
Given the importance of the betting, it's no surprise that there are several ways to place wagers on races in the UK and Ireland. There are plenty of on course bookmakers you can bet with when attending courses to watch the action live, and also the Tote.
The Tote is a parimutuel betting company, which used to be owned by the government but was sold to the private sector in 2011.
Away from the course there are different options. There are several bookmaking firms that have retail outlets, and you will find these in pretty much every town and city. Providing you're at least 18 years old, you can walk into any of these and place bets in cash. Most of these bookmakers also have a telephone betting service too.
The easiest way to bet on horse racing, and almost certainly the most popular these days, is to use a gambling site.
Betting online is not only fast and convenient; there are several other advantages too.
Most sites give you bonuses for signing up and depositing for example, and they generally have other special offers as well. You'll also find the odds tend to be a little bit better most of the time.
If you would like to give online betting a shot, then please make sure that you use a quality site. We have put together some recommendations of betting sites that are particularly good for horse racing and we suggest using one of these places.
Major Horse Races & Meetings in the UK & Ireland
Thousands of races take place in the UK and Ireland every year, of all different standards. There are certain races, and race meetings, that attract an especially high level of attention.
Some of these are simply popular with the fans, for one reason
or another, while some of them are particularly important or prestigious.
For example, there is the Grand National – one of the most watched races in the world. There are the British Classics, which are some of the oldest and most prestigious races in existence, and the Cheltenham Festival, which is an incredibly popular meeting not least because of the atmosphere at the track.
We have provided further information on a selection of these major events. In addition to the ones mentioned above we have covered the Royal Ascot, the Irish Triple Crown races and several more as well.