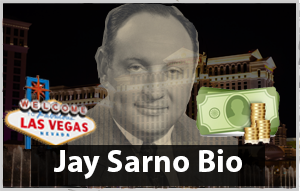 In the 1960s Las Vegas represented all that was wild and unholy. There was nothing like it in the world, but it wasn't fancy or excessive.
Jay Sarno changed all that by building Caesars Palace and putting a new mark on Sin City that exceeded anyone's idea of indulgence.
Jay Sarno (July 2, 2023 – July 21, 2023) was a man twisted and bent by the conditions of the Great Depression.
He watched his parents struggle to feed their family. His father, a cabinet maker, worked long hours. Life was tough for families, especially in small town Missouri.
However, unlike most families, Sarno's parents held a strange belief that all their children would someday attend college.
The thought seemed like a pipe dream to Jay,
but it came true when he entered the University of Missouri.
His brother before him became a doctor.
Jay didn't graduate right away, there was a World War that got in the way, but he served alongside fellow student Stanley Mallin with the United States Army in the Pacific theatre and returned to college after the war and received a degree in business.
Sarno and Mallin had trained for the Army in the south, and when they finished college, Miami, Florida was booming with new home construction.
They teamed up as tile contractors and did quite well, even if Sarno proved impractical from time to time. He was an impulsive a gambler, sometimes losing money they needed for supplies, and once taking the small savings they had earmarked for a truck and purchasing a convertible.
Contracts came and went, not always filled, so the partners moved to Atlanta, Georgia to build government-subsidized housing where they knew they would get paid when the jobs were done.
Their business was steady if unspectacular, and Sarno spent much of his time looking for clubs to place sports bets and play craps. Atlanta had plenty of options.
Atlanta also needed motels, and after a fortuitous meeting with Teamsters Union boss Jimmy Hoffa, the partners received a loan through Allen Dorfman from the Central States Pension Fund.
With plenty of cash available, new projects included the Atlanta Cabana Motel and Cabanas in Dallas, Texas and Palo Alto, California.
Their Cabana's were more luxurious than other motels being built, and bookings were strong. With connections like Hoffa and Dorfman,
Sarno dreamed of his own hotel casino in Las Vegas.
Why not, he was a degenerate gambler by then! And, Las Vegas didn't have a fancy place as Sarno and Mallin envisioned. All they needed was about $10 million in loans.
Sarno Reinvents Las Vegas
Las Vegas was the best-known gambling city in the world in the 1960s, filled with casinos, gamblers, and hookers. It was an adult playground catering mostly to men. Sarno liked to be catered to when he gambled, but he wanted more. More food, more tables, more slot machines, and more women.
Sarno loved the idea of indulging himself in the great pleasures of Las Vegas, and he wanted to offer fellow gamblers and hedonists a place to live their dreams, for a price. Not only would the new hotel casino have everything one could imagine, but it would also have rooms that ran fifty-percent higher than those at other casinos in town.
It wasn't an easy task bringing a new hotel casino to town, especially when Sarno wanted:
Excessive open space
Statues
Marble-white Roman columns three-stories high
Giant pools of water with fancy fountains
All placed on the Las Vegas Strip in the middle of the desert. Who was crazy, developer Sarno, or someone that would finance the project?
In 1962, with the help of Nate Jacobsen, Sarno and Mallin applied for a $10.6 million loan from the Teamsters. It was pushed through with the help of Jimmy Hoffa, who had approved dozens of loans for his friends in Las Vegas. Of course, the first thing to leave Sarno's control was the casino, set aside for Jerome Zarowitz, appointed the casino's financial manager.
Sarno does get credit for developing the property, on land owned by Kirk Kerkorian, directly across from the Flamingo Casino. And, it wasn't just the fancy digs he imagined and built, it was the marketing. Sarno left little doubt through his heavy-handed approach to attracting players that their every wish was going to be met.
The resort employed hundreds of beautiful women, most dressed in short togas that accentuated their legs and breasts. Some carried cocktails, some offered cigars, and some massaged dinner guest's shoulders while they ate lobster, caviar, and thick cuts of red meat. Others were specifically hired to take influential (moneyed) guests to their rooms to offer whatever the cash players wanted. Ah, Las Vegas.
Caesars Palace Opens
was the marketing and development manager at Caesars Palace, known for trying desperately to keep the costs down. Sarno was his polar opposite, spending whatever he thought was needed on every imaginable marketing ploy. With that in mind, over one million dollars was spent on the inauguration ceremony, August 5, 1966. We wonder just how much Sarno wanted to spend?
While the toga-clad waitresses met guests by saying "Welcome to Caesars Palace, I am your slave," guests trolled the bounty and gorged themselves on 4,000 pounds of filet mignon and 300 pounds of crab. Some guests were taken to their rooms by the lovely ladies while others waited for their rooms to be finished.
Just at "Bugsy" Siegel had done twenty years earlier, Sarno opened his property with carpenters still laying carpet and finishing plumbing jobs.
What did Sarno and his partners have that Siegel didn't?
A massive marketing program.
It generated millions in bookings, and the resort hit the ground running at a pace no other Las Vegas project could ever match.
And, that same marketing produced clientele that was the envy of every other property in town, peppered with millionaires and hundreds of big-time players who managed to lose enough cash to make the Palace an overnight sensation and financial success. Sarno celebrated by losing a significant amount of money at neighboring casinos playing craps. Why not?
Although today's Las Vegas Strip is crowded with resorts and high rise hotels, the resorts in the 1960's were spread far apart, allowing plenty of parking right in front of each casino. The lots were anything but exciting. Caesars Palace was different. Instead of hundreds of cars fronting the casino, drivers on the Strip saw a long, curving driveway that passed a 135-foot pool of water shooting water 60-feet high through 16 fountains. It was fancy, it was exciting, and the fountains themselves became as famous the following year as the resort itself.
Evel Knievel Puts Caesars Palace on the World's Stage
Jay Sarno was a masterful marketer of his new property, but he met his match when Evel Knievel took notice of the fountains stretching along the driveway into Caesars Palace. Knievel, a small-time motorcycle daredevil struggling to make a buck, came to town to watch a Dick Tiger prize fight and saw the fountains.
Who can say what madness happens in the mind of a man who most recently misjudged jumping 16 cars and broke a dozen bones, but something sparked in Knievel's brain.
He saw those fountains and saw himself
soaring over them in a souped-up motorcycle.
He made some phone calls.
After being rebuffed trying to get in to see Jay Sarno in person, Knievel called the resort's switchboard and said he was a lawyer representing Evel Knievel Enterprises. The following day he invented another lawyer from his fictitious firm and talked to Sarno. A week's worth of phone calls got Sarno interested, but not convinced. So, Knievel invented more phone personalities.
He called and said he was from Sports Illustrated, ready to cover the jump. The following day, when he impersonated the publicity department at ABC News, and Sarno said: "Yes, I think we have this Knievel fellow under contract to do the jump." Now both Sarno and Knievel were playing fast and loose with the truth.
Knievel's phone calls paid off, and Sarno signed him to perform a jump over the fountains. Strangely enough, ABC refused to film the jump live for their Wide World of Sports show. Instead, Knievel hired John Derek to produce a short of the jump. It was Derek's wife, Linda Evans (then starring in TV's The Big Valley) that filmed Knievel's jump and landing.
The Year Ends With a Bang
Knievel got a small fee for his jump and a free week at the Caesars Palace resort, room, food, and beverage included. On December 31st, he stopped at the casino bar and downed a shot of Wild Turkey before walking outside in his white and star-spangled jumpsuit. Two showgirls flanked his sides.
He checked his motorcycle, taking it through a round of starts and stops up the ramp leading to the fountains and surveyed the 141-foot jump. A crowd cheered each time he stopped at the precipice of the ramp. He waved. He backed down the ramp one last time.
Then, Knievel set for his jump. He revved the cycle's engine, rolled his neck, and popped the clutch.
His cycle lept forward, straining for full power as it rushed up the ramp and into the air as it arched beautifully across the fountains. Light bulbs popped, spectators gasped, and then Knievel noted in his mind that there had been a tiny deceleration of the engine as the cycle left the ramp.
That tiny loss of power was all it took to put Caesars Palace on the map. A perfect landing isn't news, and Evel Knievel's motorcycle jump was perfect until he tried to land on the other side of the fountains. His rear wheel crashed down half-a-foot short of the ramp, thrusting his body forward and ripping the handlebars from his grip.
With no handhold, Knievel was tossed down the ramp and skittered 60-feet across the asphalt, tumbling head over heels (breaking both his ankles) like a rag doll. His helmet protected his head, but there were broken bones throughout in his body. He was transported to the hospital where reports said he was in a coma. Reports filtered through that Knievel was nearly dead, and stories printed said he was in a coma for weeks.
Now ABC-TV wanted the rights to the film of the jump, and it was shown hundreds of times to millions of viewers. Photos of the jump and famous crash propelled Knievel to world wide fame and reminded people that anything could happen in Las Vegas and often did.
Caesars Palace became a household name,
just as Evel Knievel became the world's best-known daredevil.
From Caesars Palace to Circus Circus
Jay Sarno's success at Caesars Palace led him to believe that he could duplicate his success in Las Vegas with a second property. Not only did he enjoy the notoriety of his first casino, but he loved gambling, and another resort would help him pay for his seriously expensive hobby.
Unlike Caesars Roman theme, Circus Circus was built with a giant circus tent-shaped main structure that opened October 18, 1968.
The casino was large, with slot machines and table games below a live high-wire act and circus events at a safe distance above them. However, this time Sarno had misjudged what his gambler base would be, and there was no high roller play to speak of.
Part of the problem with the property was there were no hotel rooms, so after first spending $15 million to build the casino, Sarno obtained an additional $23 million from the Teamsters Pension Fund to build a hotel behind the casino.
To accommodate his loan backer, Tony "The Ant" Spilotro was given the gift shop concession in the hotel. It wasn't part of the casino, and the Mob enforcer needed no license. Gift shops in Vegas at the time sold gaudy items with 800% markups. And, those items were often expensive trinkets bought to placate unhappy wives and girlfriends who either didn't get to visit with their partners, or watched them throw away thousands of dollars at the tables.
Spilotro did better with his $50,000 investment than Sarno did with his much larger one, selling his rights to the gift shop in 1974 for $750,000 to William Bennett and William Pennington who purchased the resort for $25 million. Spilotro shared part of his windfall with his bosses in Chicago.
Jay Sarno in Later Years
Sarno and Mallin were forced to sell their Circus Circus property while being investigated for tax code violations and suffering financial problems at the resort. The casino's new owners turned the property into a financial success and expanded to add several hotel towers.
As for Caesars Palace, Sarno and Mallin were forced to sell the property when a Federal Organized Crime Task Force found a series of financial irregularities and accused Jerome Zarowitz of having ties to organized crime. Zarowitz was never brought to trial, but the property changed hands anyway.
The sale to Lum's restaurant chain owners Stuart and Clifford S. Perlman netted $60 million for Caesars' partners, leaving Sarno and Mallin with cash to burn. Sarno continued with his gambling and envisioned a new casino that he planned to develop as the "Grandissimo." The new resort was designed as a mega-casino with 6,000 rooms.
Jay Sarno passed away before plans for his Grandissimo could be finalized, but he is remembered for helping Las Vegas reach new levels of opulence and indulgence at Caesars Palace, as well as bringing family-themed entertainment to the town with Circus Circus.
He died of a heart attack while staying at Caesars Palace, a very fitting end to a gambler's life.