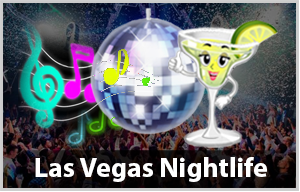 Las Vegas is the quintessential City that Never Sleeps. The casinos have no clocks, the dazzling lights of the resorts and the Fremont Street Experience make the night as spectacularly bright as the day, and you can play till you drop 24-7, while cocktail servers bring you free drinks. Did we mention the gambling?
There is an obvious ebb and flow of players and casino personnel throughout the course of 24-hours, so as night stretches into early morning there are fewer blackjack and craps games to play, but there's always action. As for the slots, those one-armed-bandits never lose their energy, and you can fight them at any hour. Your chances of hitting a jackpot are just as good at 4 AM as it is at 2 PM, but don't assume that the longer you play, the more likely you are to win, that's a famous gaming fallacy.
Slot machines are miniature computer processors, and each spin is independent of the last, so you have the same odds of winning each pull of the handle whether you've played two spins or two thousand. The only comforting thing about slots and video poker is that eventually, you'll approach whatever odds the machine is set for. If the odds of hitting a Royal Flush are 45,000 to 1, your actual results will someday reach close to that number, although it may take years of play. If you want to enjoy table games, evening time is the busiest.
Evening time is the busiest!
That means there will be more players and the table minimums will be at their highest. If craps is your game and you want lots of action with cheering crowds, play between 7 PM and midnight. If you want to be the shooter most of the time on a game with only a few players, play early morning hours well after midnight and before noon.
The same goes for poker games. Some rooms don't even open until 10 AM, but for the most part, you can find plenty of games to choose from between 2 PM and 10 PM. If you wait until after midnight, you'll have fewer choices. The only attractions you'll find during graveyard hours are the relaxed atmosphere and increased comp points at some clubs. If you want to play short-handed, that's your time. Want a full game with continually rotating new players then you've got to play late afternoon or early evening hours.
Las Vegas Restaurants in the Evening
Las Vegas attracts millions of visitors each year, and while there are hundreds of nice restaurants, there are also 150,000 hotel and motel rooms filled with people, so finding an empty restaurant of your choice at 7 PM is unlikely. So, a good rule is to explore your options early and make a reservation.


If you want to eat at a casino buffet, you'll find good prices and great selections. You'll also find that the nicer the property, the higher the prices. No big surprise, but keep in mind that a cheap dinner buffet is $12.95 with a reasonable selection of dishes. At nicer properties like Mandalay Bay, Venetian, Wynn, and Bellagio that meal is likely to be $20 for children and $35 for adults. And, there will be a wait to get in.
Many casinos have food courts with lots of choices in the lower price range. And most casinos have several casual dining choices. Prices are comparable to most cities in the US. However, if you want a nice steak dinner at , it's gonna cost you. Entrees are $40 to $80, and sides are $10 each.  Make sure to get reservations for a window seat – the restaurant overlooks the Bellagio Fountains.
You can expect comparable prices at Caesars, Mirage or any other large Strip casino for similar meals. The land of $9.95 prime rib dinners has gone the way of the Dodo Bird. Family-style casual dining is available all over town, and locals casinos off the Strip and Downtown have more moderate prices, even for very good meals.
As for choosing the best restaurants in town, the top two or three choices at each of the Strip's best resorts will leave you happy, and you can't go wrong with the best steakhouse at most any casino. Even the smaller properties offer several choices with plenty of good meals at reasonable prices.
Nightclubbing Las Vegas
If your idea of hitting the town includes bars and nightclubs, you'll find there are many choices in Las Vegas . Every hotel property has several bars, many with attractions like live music, live gaming, and happy hours that last all night. Others have little hideaways with overhead mood music and a quiet atmosphere. It's your choice.
**HAPPY HOURS THAT LAST ALL NIGHT**
If you want to get an idea what's out there, consider a Club Crawl party package. Your level of crazy isn't the same as everyone else, so pick a crawl and company that will get you past the velvet ropes and the bouncer at the door and move quickly into the action with you host.
You can hit just a few clubs or a handful and devote an hour or two or half the night to clubbing. You can even hit some of the best pool parties in town with passes for Day Parties at places like Liquid, Venus, Wet Republic, and Daylight.
**LIVE MUSIC**
A Club Crawl gets you into places like Jewel, LAZ, Bank, and Omnia quickly and for less than what you might be passing to the doorman.  You also might want to avoid driving, so many packages include transportation from clubs like Coyote Ugly and Diablo's to other hotspots like House of Blues and others.


Top clubs at well-known properties include Tao at the Venetian, where you can get an all-access pass to skip the doormen and cruise right into the club (as you can for most clubs at about $20). Inside you'll find 42,000 square feet of fun with DJ's and mind-blowing music. During the summer, your pass gets you into the 18,000 square foot pool oasis. Great food is on the menu, and masseuses are available.
**MOUTHWATERING, DELECTABLE MEALS**
At the Hard Rock Casino, you'll find several choices for shows, DJ's, and plenty of party fun at Rehab, Vinyl, The Joint, and Poolside. Expect acts like Kevin Hart $20/$40 F-M, Third Eye Blind, Prince Royce, and Shooter Jennings  – GA SRO $25.
Chateau at Paris Rooftop and Nightclub $20/$30 F-M, is open Wednesday, Friday, and Saturday at 10:30 PM. Panoramic views of the Strip, dance floor, high-energy lighting, VIP bottle service, and live DJ, of course are all on tap.
Also overlooking the city is Voodoo Rooftop Nightclub at the Rio, 51-stories up. Open Wednesday through Sunday, 9:00 PM, Dress to impress, $20 entry. $10 beers, $400 bottle service, DJ-spun, Open format, Top 40.
The Hyde at Bellagio opens every night at 5:00 PM, $20/$30 F-M, $15 cocktails, $550 bottle service, Top 40 and DJ-spun hits. Fashionable attire, nice crowd, 21 to late 40's. Overlooks the Fountains of Bellagio, but if that's all you're watching, you're missing the heat.
**ROOFTOP POOL DECK PARTIES**
is inside the Cromwell, and there's something going every day/night, DJ Esco, Wiz Khalifa, Chris Brown and more. 11 stories up and the Strip's only rooftop pool deck.
The House of Blues Foundation Room is found on the rooftop at Mandalay Bay and opens every night at 10 PM. $30/$30 F-M entry, well-dressed, more room, sofas, and chairs, but standard DJ-Spun Top 40 and EDM. $10 beers, $500 bottle service and seating charges.
Other Vegas Nightlife Options
There are two-dozen other hot nightclubs in Vegas and another 200 bars. You might not have time to check them all out. Bars are also found outside of the casinos, many with live music, video slots, and prices lower than the hot spots on the Strip. Most are on Strip feeder streets that intersect with Las Vegas Boulevard.


If you are looking for something a bit more subdued, consider the Piano Bar at Harrah's. Or try a show like the Beatles LOVE at the Mirage ($110), Michael Jackson ONE at Mandalay Bay ($100), O Cirque Du Soleil at Bellagio ($140), David Copperfield at MGM ($140), Criss Angel Mindfreak at Luxor ($90), or one of dozens of other top shows in town.
Expect shows on Friday and Saturday night to be the busiest, but many shows are sold-out almost every performance. Check with your resort's concierge desk about booking tickets and remember, when the shows break, people are hungry. Expect a wait at the restaurants.
Gentlemen's Club in Las Vegas
If you know the name Spearmint Rhino or Crazyhorse III, you know there's the Las Vegas Strip clubs, and then there are strip clubs! Gentleman's clubs are all over town, with limo service, bottle service, dance rooms and naked ladies. Most of the clubs have restaurants or bar menus; some that only serve meals after 9 or 10 PM.
You'll also find cigars, hookah, all-male revues for the ladies like "Men of Sapphire" that plays at Sapphire Thursdays, Fridays, and Saturdays, and all-nude performers at some clubs. Strip clubs can offer full nudity or alcohol. What a choice.
Of course, there are exceptions, or one, at least. The Palomino Club in North Las Vegas got grandfathered-in, so full-nude and a full bar too. It's a little pricier, two-drinks, two-eyes, $60.


At Little Darlings, the cover is $35 with soda and coffee at $6, but the ladies are all-nude. Centerfolds is $36 to get in and comes with a limo ride in and two comp drinks, and they are close to the Hard Rock Casino.
At Crazy Horse III (like most clubs), the entry fee is wrapped in a drink deal, $50 entry and a $60 drink voucher which let's face it, doesn't go very far in a nude bar. Or you can choose from a variety of other specials with intriguing prices.
Keep in mind that not all clubs are open 24-hours. Also note that many clubs have a fee for table service, such as $10 or 10% of your bar tab. And, an automatic gratuity may be charged for your table, up to 25%. So what you think is a $300 bar tab could be $405 by the time you're done. It's all good; it's all part of the package, just expect to spend some money.
Beyond the strip clubs, the next question many people have is about prostitution, which in not legal in Las Vegas, or even Clark County. No matter what all those cards and fliers you get handed outside the casinos say or imply, escort service is not prostitution. Don't ask, don't get in trouble. Use your money for healthy, legal outlets like strip clubs, drinking, and gambling. That's what Las Vegas was built on.