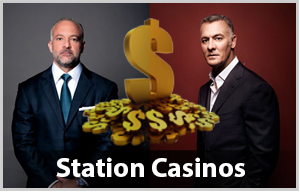 Station Casinos started as a tiny 5,000 square foot property aptly called "The Casino." As gaming goes, it wasn't much.
The casino was attached to the Mini-Price Motor Lin close to Las Vegas Boulevard past the Downtown casinos and on the way to North Las Vegas.
People said Frank Joseph Fertitta Jr. (October 30, 2022 – August 21, 2022) was crazy for opening the joint. There was no parking, except on a pitted and broken-glass covered blacktop. The spaces weren't properly painted. There was no signage.
What the place had in its favor was a hard-working dude from Beaumont, Texas who had spent sixteen years in the Las Vegas gaming industry. He and his wife, Victoria arrived in 1960.
Frank took a job as a bellman at the Tropicana Hotel and Casino and worked himself to death each night moving luggage and golf clubs from taxis and private vehicles to rooms in the hotel. Victoria was thrilled when he learned to deal craps and blackjack and didn't have to move heavy bags all night.
Now all young Frank had to do was stand on his feet for eight hours and be abused by the rowdy and demanding players.
At least the pay was better. Frank and Victoria had three children and moved to larger homes as Frank took better jobs in the casino.
Over the years, he worked as a dealer, pit boss, and finally general manager at several properties. They included his start at the Tropicana, then the Stardust and the Sahara.
Although Fertitta worked briefly at Circus Circus, the other properties were old school. They had been open for years and catered to travelers who hit Vegas hard with wads of sweaty cash in their hands.
Fertitta thought there might be a market for locals. Homemakers and cabbies alike; dealers and cocktail servers, everyone that worked hard in the town that never slept. Frank was on a budget.
The Bingo Palace
With little cash to spend, Fertitta opened his little property and saw it attract just who he expected, cabbies and locals with tip money burning a hole in their pockets. During the second year in business, Fertitta added a bingo game and gave his little casino a proper name: Bingo Palace.
Well, the palace part was certainly an overstatement, but bingo was popular, and what the hell, he and his partners were making bank. The property expanded and added a buffet. Then it added more slots and a keno game.
A poker room where the buses dropped players off came next. Fertitta saw a bright future and bought out his partners. He worked seven days a week. Why wouldn't he?
In 1984, after years of walls being busted out and small expansions, the Bingo Palace incorporated a railroad theme and was renamed Palace Station. Governor Richard Bryan attended the grand opening ceremony on April 6th.
So, did locals, and so did plenty of visitors from out of town, many of whom were staying at the 465-room motel next door. So, Fertitta bought the motel. Five years later a 21-story tower was built.
As a side note, the property soldiers on, with a steady flow of visitors filling the 1,000 rooms on most nights. One evening in 2007, some associates and former NFL star the occupants of sports memorabilia he claimed was his.
He used a gun. He got prison time.
He has most recently been released. He's probably not sure if everything that happens in Vegas stays in Vegas.
New Station Casinos
In 1993, Fertitta passed management of his casino over to his sons, Frank Fertitta III and Lorenzo Fertitta when the company went public. Land was purchased along Boulder Highway for a new property to be built called Boulder Station.
It was the first of many new Station properties, all situated away from the Las Vegas Strip. Each took on a persona of its own while maintaining the core values of Station Casinos.
Those core attributes included friendly employees
who greeted players as guests, not just customers.
That alone was very important because most of the original players at each new property (Texas Station, Fiesta Station, Sunset Station, etc.) were locals who could walk or take a short drive to the casino.
What tourists found at the properties were clean rooms with cheap rates, low-cost table games, and plenty of freebies and giveaways to go with the inexpensive meals. In other words, Las Vegas didn't have to be expensive. Play nickel video poker, earn some comps and drink like a fish.
Station's new casinos did more business as Steve Wynn built Mega-casinos on the Las Vegas Strip and forced higher prices for rooms and meals all up and down Las Vegas Boulevard.
The company grew to include a dozen casinos and money was never an issue.
Station Casinos Go Private
In late 2006, while MGM Resorts and Caesars Palace/Harrah's grew to $25 billion multi-resort, multi-state behemoths, the Fertitta's went the other way. With a leveraged buyout, Frank Fertitta III, Lorenzo Fertitta, and Colony Capital LLC purchased all outstanding shares at $82 per.
The combined investment included $870 million from the Fertitta brothers and their sister Delise Sartini and her husband, Blake.
The new company, , was infused with $2.6 billion from Colony Capital, which took a 75% share of the company. The purchase made the Fertitta brothers billionaires. Life was good, but storm clouds were on the Vegas horizon.
Within two years, the US economy, and especially the future of Las Vegas operations was in serious condition. Station Casinos filed for chapter 11 bankruptcy on July 28, 2009. The filing listed $5.7 billion in assets and $6.5 billion in debt.
A month later, founder Frank Fertitta Jr. died from complications of a heart condition. It was a bad summer.
Management of Stations did not change, only the economy did.
In June of 2011, the company exited bankruptcy with 18 casinos and $4 billion less debt.
The Fertitta brothers put $200 million into the restructured company and now hold 45 percent of its shares.
Today, the brothers own 29 percent of Stations Casinos LLC each. Deutsche Bank owns 25 percent, Fidelity Investments owns 9 percent, and Oaktree Capital Management holds the final 6 percent.
Frank Fertitta III is Chairman and CEO of Station Casinos. He oversees the 21 properties which employ nearly 12,000 workers and produce more than $1.4 billion in revenue.
It's never been easy, but the Fertitta family can be very proud to have seen their share of the Las Vegas economy grow exponentially from what was once just a 5,000-square foot hole-in-the-wall. Well done!