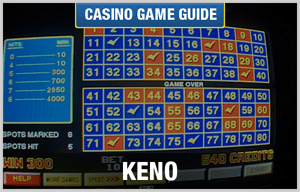 Seriously.
Does it get any easier than this?
Choose numbers.
Make a bet.
Cross your fingers.
Rinse/repeat.
Okay, maybe there's more to keno than that…but only a tiny bit. Not that there's anything wrong with simple.
Anyway, one of the nice things about keno is that you'll find it everywhere. It's not just a casino game. Many states have it (online) too, as part of their state lottery offerings. You'll find apps and free arcade games, too.
At brick-and-mortar casinos, you'll find keno heavily advertised in bars and restaurants. It's one of the only games you can play from your table. Just pick your numbers and place your bet with the waitress.
The bottom line – keno's a popular game. It's available everywhere. And if you want to know more about it, including where it comes from, how to play it, and what variations exist, you'll want to read our guide below.
Keno's History
Records show keno originated in China.
It's more than 150 years old. At least according to when the lottery was first documented in 1847. That's when the Macao government decided to first grant a lottery license to operators.
However, rumor has it that keno saved the city.
It helped raise the funds needed
to build the Great Wall of China.
Most of the Great Wall was built during the Ming Dynasty (1368-1644). That means .
Rumor also has it that keno results were sent to outlying villages by carrier pigeons. They were printed, often with the first eighty Chinese characters of the Thousand Character Classic. They were called 'white dove tickets' or pakapoo in Western countries.
Keno eventually spread to Western countries once the Chinese sailed across the Pacific in the 19th century. By 1866, it had become a widely popular game in Texas.
There, they called it keno.
How to Play Keno
The game is simple. It's usually played live or by video.
Live Keno – Gamblers use paper and markers to indicate spots. Then numbers are drawn every few minutes from a hopper filled with numbered balls, just like with bingo.
Video Keno – Gamblers use a touch screen to pick their numbers. Then a machine draws numbers at random instantly. This is similar to how it's done online, minus the touch screen.
Keno's pretty much the same whichever way you choose to play it. That said, we'll be using Bovada's keno game to explain how to play it.
The standard game is played on a board with eighty numbers. The objective is to select numbers you think will be picked during the drawing round. Again, it's sort of like playing bingo.
Bovada lets you select up to fifteen numbers. But how many numbers you can choose varies from one casino to the next. Some allow only ten or twelve, while others let you choose as many as twenty.
It depends. But twenty is (usually) the max.
The amount of numbers you choose determines how many hits you need to get a payout, as well as the amount of the payout itself.
It works like this:
The fewer numbers you choose, the fewer hits you need to get paid and the more each hit is worth. But fewer numbers means less money you can possibly win overall.
The more numbers you choose, the more hits you need to get paid and the less each hit is worth. But the more numbers you choose and hit, the more money you can win overall.
That's how it works. Sort of. It makes more sense when you load up a game and play a few rounds. Here's an actual example from Bovada's keno game:
Choose one number. Only one hit is needed, and pays three credits.
Choose two numbers. Two hits are needed, and pays fifteen credits.
Choose three numbers. Two hits pay two credits. Three hits pay forty-five credits.
Choose four numbers. Two hits pay one credit. Three hits pay five credits. Four hits pay 155 credits.
It works on a sliding scale. The more numbers you choose:
The more hits you need minimum to be paid anything.
The less each hit is worth. You need to cover more of your spots for the big payoffs.
The more covering all your chosen numbers is worth. You can win 100,000 credits covering all fifteen of your numbers at Bovada.
That's the general idea, anyway.
You can choose your numbers, or many casinos will have a 'quick pick' options. These randomly choose numbers for you. The most we've seen picked for you is ten.
After you choose your numbers, you'll need to choose how much you want to bet per round. This varies, but most (online) casinos will let you bet $0.01 to $20. Bovada lets you bet from $0.01 to $10.
Now it's time to draw numbers. You have a couple of options:
Play one
Play five
Play ten
These are drawing rounds. Each round requires a bet.
For example, say you bet $1. If you chose 'Play one,' you'd bet $1 and will sit through one drawing round. If you chose 'Play ten,' you'd wager $10 and would sit through ten drawing rounds.
Each drawing round is independent of the rest. In other words, if you failed to get enough hits for a payout in round one, the hits you get from round two, three, and so on, wouldn't change that.
Most casinos have a scoreboard that tracks what numbers are hit. Online, they track your hits and payouts for each round.
After the drawings are done, you're paid what you're owed. Then you can clear the board and start all over again.
Keno Variations and Side Bets
If you want to be technical, there are lots of keno variations. Every state and casino and software company has their own versions.
There's no way we can cover everything. So what we'll do instead is share a few examples below to give you an idea of what's out there.
0-Spot Bonus – Some casinos pay $500 or $1,000 for a catch of 0/20 spots (no hits) with a $5 wager.
Kansas Lottery – Twenty numbers are drawn at random every four minutes. Games run from 5am to 2am every day.  Here's their payout table for their ten-spot game: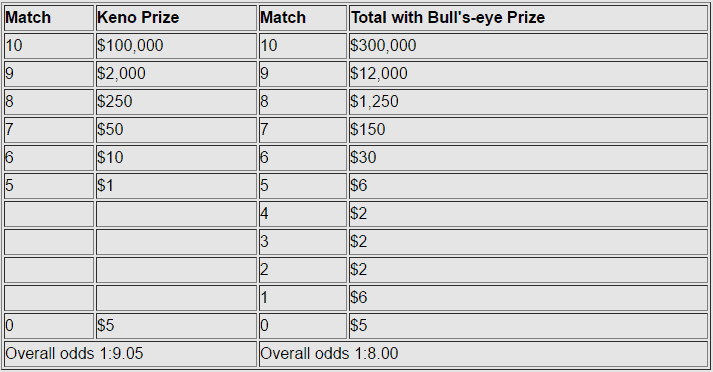 Michigan Lottery – They have three different keno games:
Instant Keno – Tickets cost $0.10-$20. This is a regular keno game with three speeds (the third is FAST), but it doesn't have a multi-round option.
Instant Keno Multiplier – Tickets cost $0.25-$20. This is an interesting option where you get a couple free spaces (like bingo), that, if hit, could earn you a multiplier on whatever amount you won during that round. But you don't have to spend extra to get it.
Fuzz Ball Keno – Tickets cost $0.10-$20. You can win money even if you don't hit enough of your numbers. For example, you'll get a few credits for missing all your spots. But then you won't earn anything for hitting one or two spots. The next time you'll be paid is for hitting three spots. This has a sliding scale where the more numbers you choose, the wider the gap between being paid for hitting nothing and being paid for hitting something becomes.
This is played online. You can play a free demo of each game.
Foxwoods Casino – Right now you can play the Keno Mega 10. This is the only casino on the East coast that offers it. This is a nationwide progressive with a payout currently sitting at $1.9 million. Tickets cost $1.50 to play.
There are many variations like these. Not only live, in different states and casinos, but also online. Each casino may have different keno variations compared to their competitors.
For example, Drake Casino offers four different keno games.
Instant Keno
Klub Keno – Get a starball and get 2x the payout.
Krazy Keno – This is 40-ball instant keno.
Traditional Keno – A normal game of keno.
The bottom line is that keno variations, side bets, and themes – their availability – will depend on where you play and whether you play live or online.
Optimal Strategy for Beating Keno
Would you like to know how to beat keno for thousands of dollars?
Here's what you need to do:
Choose your favorite number. Your spouse or kid's birthday also works.
Cross your fingers.
Pray (optional).
That's it. Now you owe me $99.95.
Kidding. Sort of.
The thing is, there's no strategy for beating keno because keno's purely a game of chance.
There's no way to beat the game, thus no strategy you can use to gain an advantage over the house.
Which sucks, because keno has one of the worst house edges of all the casino games. The house edge ranges from 4%-35% depending on where you play it. More often than not, it's in the high 20%-30% range.
In fact, the Wizard of Odds did a survey of every live keno game in Las Vegas in 2001. His stats showed returns of 65%-80%, which means house edges of 20%-35%. These are horrible odds.
He repeated the survey in 2012. The returns were FAR worse – 50%-74%.
He also did one in San Diego in 2008. The returns were much better – 84%-95%. This means a house edge of 5%-16%. It's still not great, but it's MUCH better than Las Vegas. However, he said these were video keno machines, which are 50x faster than live keno. You'll end up playing more rounds than you'd play live, which means you'll lose more money overall.
A better option, according to the Wizard of Odds,
is for keno players to convert to video poker.
He argues this is a much smarter strategy because of its lower house edge. He suggests live players convert to bingo.
But us? We think playing keno's okay, as long as you play for free. You're better off finding games with better odds if you want to play for real money.
Because the odds of you ever hitting it big with keno is akin to winning the lottery. For example, the probability of a player hitting all twenty numbers on a twenty-spot ticket is approximately 1 in 3.5 quintillion (1 in 3,535,316,142,212,174,336, to be exact).
Here are the odds for each number of hits:
| Hits | Odds |
| --- | --- |
| 0 | 1 in 843.380 (0.11857057%) |
| 1 | 1 in 86.446 (1.15678605%) |
| 2 | 1 in 20.115 (4.97142576%) |
| 3 | 1 in 8.009 (12.48637168%) |
| 4 | 1 in 4.877 (20.50318987%) |
| 5 | 1 in 4.287 (23.32807380%) |
| 6 | 1 in 5.258 (19.01745147%) |
| 7 | 1 in 8.826 (11.32954556%) |
| 8 | 1 in 20.055 (4.98618021%) |
| 9 | 1 in 61.420 (1.62814048%) |
| 10 | 1 in 253.801 (0.39401000%) |
| 11 | 1 in 1,423.822 (0.07023351%) |
| 12 | 1 in 10,968.701 (0.00911685%) |
| 13 | 1 in 118,084.920 (0.00084685%) |
| 14 | 1 in 1,821,881.628 (0.00005489%) |
| 15 | 1 in 41,751,453.986 (0.00000240%) |
| 16 | 1 in 1,496,372,110.872 (0.00000007%) |
| 17 | 1 in 90,624,035,964.712 |
| 18 | 1 in 10,512,388,171,906.553 |
| 19 | 1 in 2,946,096,785,176,811.500 |
| 20 | 1 in 3,535,316,142,212,173,800.000 |
The odds change a lot based on the number of spots chosen on each ticket, too.
You've got to ask yourself one question:
For most people, the answer will be no.
Conclusion
That's all there is to it.
Keno's a pretty simple game. There's not much else to it than choosing some numbers and hoping they come up.
You'll have no problem playing it online. Nearly every casino offers it. And why wouldn't they, when the odds are so heavily weighted in their favor? Clearing bonuses playing keno is no problem, either.
Honestly, if you're looking for a game with goods odds or a good chance of winning money, you're better off playing a game like blackjack. Heck, we've even found better odds with some slot machines.
But we're not here to judge. Everyone has their favorites. And if keno's one of yours – or if you want to find out if it is – go join a casino like Bovada and give it a shot.
Here are some commonly asked questions (and our answers) about keno.
Are there any keno apps?
A quick Google search for "keno apps" shows a few options:
Keno Keno Free (iOS)
Keno Bonus Free (iOS)
Keno Keno Las Vegas Casino (Android)
Apparently, these were all created by the same person.
You'll also find a top-list of and for .
Keep in mind that, unless you play keno at an online casino or on your state lottery's website, you won't be able to play for real money. That's the trade-off to downloading apps from your app store.
What is keno bonus?
There are a couple different keno games called Keno Bonus. One is an app we listed above. But there's also a real money version.
Net Entertainment (NetEnt) created a game called Keno Bonus. Their version includes a bonus round, which offers a free game with the possibility of doubling the normal payout. You'll get to play the bonus round if you spell the word "bonus."
You'll get letters that spell the word "bonus" whenever one of your spots is selected and reveals a bonus symbol. Do this enough times to spell "bonus" and you'll get to play the bonus round.
How do I play free keno games without downloading any software?
The best way to do this is to find a casino that offers an instant play or browser casino. These are casinos that offer games you can play from your browser. No software or download is necessary.
Some casinos don't even force you to create an account or log in to play. A couple examples include Bovada and Ignition Casino.
What is a keno girl?
According to an expert from Yahoo Answers:
I'm from Massachusetts, which has Keno. A Keno girl takes the customers' money and bets, makes the bets, returns the Keno tickets and the change to the customers.
And gets a nice tip when her customers win. 😉
What is a keno generator?
It's a program you can use to pick your numbers.
For example, you can use from your browser. Here's what you do:
Select how many tickets you're playing.
Select how many numbers you want.
Select how many numbers are on the board.
Press "Pick Tickets"
When I chose two tickets, ten numbers each on an eighty-number board, here's what it gave me:
06-13-17-18-29-31-46-55-67-79
05-06-09-11-20-28-30-40-47-80
Your next step is to buy two lottery tickets with these numbers selected.
How do you win playing keno?
Luck. There's no other way to win.
We found an article on WikiHow.com which shares seven tips for winning at keno. A couple of their tips include:
Play the progressive. Their reason why is because keno has bad odds.
Get serious. They say you should compute the expected value of every non-jackpot win. Then compute the probability of winning the progressive. Then use that info to know exactly when it's +EV to bet on the progressive jackpot.
Find a casino where the payout's not terrible.
And so on.
We've also seen some books about how to beat keno.
It's all ridiculous. It's all a waste of time. Period.
If you want to make money from keno, don't play it. It's got some of the worst odds in the casino even if you find a casino with higher payouts.
Only play keno if you enjoy it. That way, the losses won't sting too bad.
What's the largest keno prize won?
We're not sure if these are the largest, but we did manage to dig up a few large past wins:
Someone in Australia won $4.36 million in June 2013.
A group of eight coworkers and two friends won an $86,204.70 jackpot from the eight-spot Keno Rolling Jackpot Bonus game in January 2013.
A nurse's aide won nearly $6.4 million from a progressive keno jackpot at Sam's Town in Las Vegas. The report suggests this is the largest keno jackpot in history. This was in October 2007 .
A semi-retired businessman won $3.29 million from a keno jackpot at the Runaway Bay Tavern in Queensland. This was in 2016, and was the biggest jackpot won there since 2009.
Those are the largest examples we could find. With a Google search, you will surely find more.
Have a question you'd like us to answer about keno? Send us an email!