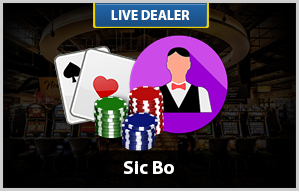 Have you heard of sic bo? I wouldn't blame you if you haven't.
Sic bo is a well-known game, but more so in Asian casinos or at online casinos who cater to an international audience.
For that reason, you're not going to see many online casinos offer regular sic bo, much less live dealer sic bo. Especially if you're playing at a US online casino.
But since the game does exist, this page needs to exist, too.
And what exactly will we cover?
Below you'll find information about playing live dealer sic bo online. We explain what to expect; how to find a casino online; how bonuses work for sic bo players; and then we wrap up with a little FAQ, where we'll answer the most commonly asked questions about (live dealer) sic bo.
This guide starts immediately below.
How to Find a Casino
The first thing I want to cover is how to find a casino that offers live dealer sic bo. If you don't want our help, that's okay – but just know that you could be searching for a while since so few casinos even offer a regular version of it.
Even if you did find one or two casinos, you'd still have to sort the good apples from the bad ones.
It's for that reason I recommend you use the lists on this page or any of the other sic bo pages on our site. That's the absolute fastest way to find the best casino.
Another route you can take is to read each of our reviews. Most, if not all of them will list the table games that casino offers. This will take longer, since many casinos don't offer sic bo, but the plus side is you'll find some casinos that do offer but aren't listed (for various reasons) in our top list tables.
Maybe one of those will be a better fit. Maybe not. There's no way to tell for sure until you check the casino out – which you can do for free, and sometimes even without creating an account.
Anyway – those are the fastest ways to find a safe, reliable and fun casino who also offers sic bo.
But – for whatever reason – let's say you want to find a casino on your own. What's the best way to go about it? And, what's the best way to protect yourself in the process?
Here's how I would do it. You'll want to start this process with a list of casinos you find in Google (or some other search engine) or from a gambling website (like this one).
Then go through this checklist:
Do they offer live sic bo?

Pretty simple. Nothing else matters if they don't have the game you want to play. Most casinos will list it on their site. If you want to be really thorough, you can check their list against other reviews, or even ship them an email.

Do they accept players from your country/region?

Check their terms and conditions to be certain. You can also read reviews or ship them an email. Again, this is one of those things that needs to be in your favor, otherwise nothing else in this list matters.

What do others say about them? Do they have a good reputation?

Check out forums and other websites to see if they have a good reputation for players. Look at any complaints there may be and see if they're the type of thing that would stop you from playing there.

Are they licensed?

Having a license, no matter where it's from or how strict of rules they have to follow, is usually a good sign. It's a barrier to entry, even if it's a low one. The best way to know if they're licensed is to check the footer of their website.

Can you play by download?

Instant play? Mobile? Only you know what you prefer. Me – I prefer instant play, followed by mobile because both are convenient – you can play from any computer and/or location.

Do they have banking options you can use?

Nearly every casino has a banking page. Check to see if they accept options you can use or are willing to get. You'll also want to check for limits and fees and make sure both work for your budget and goals.

Can sic bo players claim their offers?

What are the rollover terms like? I'll talk more about bonuses below, but if you're interested in earning a few bucks, you'll want to see if the casino will even let you. Not all of them do. Not only that, but not all bonuses are worthwhile for sic bo players.
You can find this information on review sites, forums, watchdog sites and more. Google is your friend here, too.
From here I'd take the top 2-3 choices – if you even have that many – and give them a trial run. You can do it for free or for real money – it's up to you – and see which casino you like the most. Then choose the best of the bunch.
That's all there is to it.
A Word About Bonuses
In the last section, I briefly mentioned bonuses. I wanted to go into a little more depth about them because bonuses for sic bo players are not the same as bonuses for slots or keno players.
Casinos treat sic bo (and other table and video poker game) players differently. The reason boils down to one of two reasons – the game's too easy to exploit while on a bonus, such as betting on red/black – or, the house edge is too small.
I'm not 100% sure – and casinos usually don't comment on this sort of thing – but I'd guess that sic bo falls into the latter category. The house edge – which is as low as 3% - is too small.
This creates a problem for casinos because the game variance can swing wildly either way. If it swings in the player's favor, then the casino is out that money PLUS the money or perks they offered them through a promotion.
For that reason, some casinos exclude players from claiming a bonus if they're going to play (low edge) table games.
Most others, however, choose to handicap these games instead. They make the rollover or playthrough harder to complete.
All promotions will have a 'rollover' or 'playthrough' requirement. Casinos have them so you can't make a deposit, claim a bonus and then immediately cash out. For example, a casino might say that a player has to roll over the bonus 35x. On a $100 bonus, you'd have to wager $3,500 before you could cash out.
But that's the default amount – what slot and keno players have to fulfill.
Other games – those that have a low edge and/or are exploitable – will have to contribute more to earn the bonus. This is the handicap I mentioned a second ago. Most casinos will place each of their games on a sliding scale, which looks sort of like this:
Slots – 100%
Video poker – 50%
Table games – 20%
Single deck blackjack – 5%
I just made these up, so don't take them to heart. And, they change from casino to casino. But I want to use this scale to illustrate a point about what to expect if you plan to play sic bo while clearing a bonus.
With a 35x rollover, slots players – who're at 100% - will roll their bonus over 35 times. If they claim a $100 bonus, that means they'll need to wager $3,500 BEFORE they can cash out.
For table game players – which will usually include sic bo – every bet will only be worth 20% of a (slot) bet. In other words, you'll need to wager 5x more than the default playthrough. In this case, that means you'd need to wager 175x the bonus (100/20 = 5 | 35×5 = 175), or $17,500, to earn your bonus.
That's a big difference, isn't it? And this should make it clear why it's so important to check a casino's terms and conditions BEFORE you sign up and make a deposit. Because usually you'll have to fulfill the requirements before you want to cash out if you want to keep the bonus money or winnings.
On top of that, each casino will have different rules and terms, which may make the bonus easier or harder to complete, or more or less worthwhile to claim. And often times these handicaps apply to other offers, too, such as VIP programs. You'll have to play more to earn the same perks as slots players. These are things to look for and compare, too.
Ultimately, it'll be up to you to decide if a bonus makes sense. But you'll want to be realistic about your chances of wagering the amount of money required.
Sometimes bonuses just aren't worth claiming.
Conclusion
That's live dealer sic bo in a nutshell.
Really, it's not any different than playing regular sic bo online. You'll use the same process to find a casino either way. And finding and claiming a reasonable bonus is the exact same, too.
But, as I said earlier, the fastest, most convenient and reliable way to find a top-notch live casino is to use our recommendations above. Then, if any casinos catch your eye, read the reviews to find the limits, promotions and banking options that work best for you.
Live Dealer Sic Bo FAQ
Here are some regularly asked questions about playing sic bo, and our answers.
What are the typical betting limits for live sic bo games?
This depends on where you play. But you can expect to find limits as low as $1 – which is the most common min bet – and as high as $10.
Max bets vary from $100 to $20,000.
Can you play live sic bo from your mobile device?
Yes. This, too, depends on the casino. Some casinos aren't yet compatible with mobile devices. Most casinos are, though, and will either have instant play live dealer games, or they'll have native apps you can download.
Can Americans play live dealer sic bo?
Unfortunately, your odds of finding a US-friendly casino with live dealer sic bo isn't good. Sic bo is more popular with Asian casinos, therefore most casinos with sic bo games will not allow Americans to join.
What alternatives are there for US players?
Your best alternative is to play regular sic bo, which few US casinos offer.
Another option is to choose a different live dealer game. You'll have way more options this way.
You can also try to open an account at an international casino. You won't be able to play for real money, but you may be able to play for fun/free.
Is the house edge the same as regular sic bo?
Yes, because nothing actually changes going from regular (RNG) games to live. That said, if the game has different rules or some kind of side bet (that you choose to play), the house edge might vary slightly.
Have you any tips for kicking butt at sic bo?
Sic bo is a simple game. There's not much you can do to improve your odds. That said, experts recommend that you:
Play even, odd, small or big bets. These are close to even odds (a coin flip), which means they have the smallest house edge.
Find a casino with larger payouts. This reduces the house edge, too.
That's really the best you can do to improve your chances.
You might see suggestions to try a betting strategy or a fancy program designed to beat sic bo, but don't fall for any of them. They don't work. If you're going to use something like that, make sure it's for fun only.
Because chances are good you're going to lose your money (in the long run), which is what you should expect from playing ANY casino game.