Hong Kong Gambling Law Overview
Casino Gambling: Illegal
Poker: Illegal
Horse Racing Betting: Legal
Lottery: Legal
Football Betting: Legal
Charitable Giving: Legal
Social Gambling: Legal
Online Gambling: Illegal
Most people know that Macau is one of the global gambling capitals, but Hong Kong is an entirely different story. The two cities are just a one-hour ferry ride away, but Hong Kong has a unique gambling presence.
Hong Kong is part of China but, it's also a Special Administrative Colony and has an individual and unique structure. So, in 1977, the Gambling Ordinance was enacted to regulate all gambling activities in the city.
The Hong Kong Jockey Club, which had been around since 1884, became designated as a government granted monopoly overseeing all legal betting activities.
The Hong Kong Jockey Club (HKJC) is structured as a non-profit, so 79% of all gambling proceeds are put back into the economy through taxes and charitable donations.
HKJC is the most significant single taxpayer in Hong Kong and employs nearly 25,000 in staff.
The HKJC provides the only legalized gambling opportunities in Hong Kong and is comprised of three areas:
Horse Races
Football Betting
Mark Six Lottery
The club offers over 100 off-track betting sites and has expanded to allow some international players to bet. It has a deal with the Ladbrokes-Coral Group in the United Kingdom to accept bets through their websites as well, thereby increasing their customer base and elevating interest in Hong Kong racing.
Hong Kong Gambling Stats & Key Info
Age Requirements: 18 years of age or older
Approximate Annual Gambling Revenue Turnover: HK $202.7 Billion
Approximate Annual Gambling Taxes: HK $21.7 Billion
Number of Commercial Casinos: 0
Number of Poker Rooms: 0
Number of Tribal Casinos: 0
Casino Regulatory Body: Hong Kong SAR Government
The Legal Status of Gambling in Hong Kong
While social gambling has been legal even before the 1977 Gambling Ordinance, and it continues to be, that legislation essentially created a government-run monopoly.
The Hong Kong Jockey Club answers to the Hong Kong SAR Government and is the one and only provider of legal gambling services.
Despite very clear-cut rules and regulations, there have still been significant issues with illegal gambling activities. The HKJC reports that, during the 2014 World Cup, the Hong Kong Police Force appropriated HK $750 million in illegally traded cash and betting slips.
Although it's estimated that $12 billion is lost through illegal gambling activities, it's surprising, as the penalties are quite severe.
Illegal bettors who are convicted face nine months in prison as well as a $30,000 fine. For the providers, there could be a seven-year prison sentence as well as up to $5 million in penalties.
Is Online Gambling Legal in Hong Kong?
No. Neither online casino gambling nor sports betting is legal in Hong Kong unless it's through the HKJC website.
Anyone participating in or providing online betting services is subject to the prison time and monetary fines outlined in the previous section. That's up to seven years for an illegal provider as well as up to five-million in levies.
Where Can I Gamble in Hong Kong?
There aren't any legal casinos in Hong Kong or on cruise ships departing from the area, as casino gambling is strictly prohibited unless it's deemed to be a social game.
There are horse tracks and off-track betting agencies, all provided by the Hong Kong Jockey Club, where anyone 18 years age or older can stake a legal bet on horse racing, football, or lottery.
Providers not associated with the HKJC are illegally operating and could incur some stiff penalties, so it's not advised for Hong Kong residents to go outside of the HKJC.
Address: Sha Tin, New Territories
Venue Type:Horse Racing
Phone:+852 2695 6223
Address: 2 Sports Road, Happy Valley
Venue Type:Horse Racing
Phone:(852) 2895 1523 or (852) 2966 8111
Online Gambling Options in Hong Kong
While there isn't sanctioned online casino or sports betting from any other operator outside of the HKJC, including offshore providers, residents over 18 can use the .
History of Hong Kong Gambling Laws
Horse racing begins in Pokfulam, Hong Kong with the construction of a small race course.
Horse racing becomes more prevalent with racing action in Happy Valley, Hong Kong.
The first time gambling becomes a highly debated issue in Hong Kong. The Governor was granted the power to allow for local betting, but a vocal citizen's brigade objected.
The short-lived public gambling in Hong Kong came to an end. Gaming houses were now prohibited.
Formation of the Hong Kong Jockey Club. It was established with the same basic premise that still is held today. It's a non-profit organization authorized by the government that contributes significant annual revenue to social welfare causes.
Mahjong business licenses originated by the Hong Kong Police Force, so operators publicly offer organized games. However, as there was still a conflict with the gambling aspect, a Mahjong license was issued as Mahjong School. 144 total "schools" were established and were eventually whittled down to 66.
Horse racing turns professional in Hong Kong.
The first six off-course betting locations were opened.
Hong Kong Mark Six Lottery was officially launched as a legal game, despite its 32-year existence.
Sha Tin Racecourse opens.
Soccer betting was added to the offerings by the Hong Kong Jockey Club to offset the illegal wagering that had been rampant throughout Hong Kong.
More racing was added to the area's horse racing season. Additionally, the broadcasting schedule expanded to accommodate 15 overseas races.
Note:
You'll see that the increase in legalized activity provided by the HKJC, such as the takeover of the Mark Six Lottery, the football betting, and the enhanced racing opportunities, were introduced to combat illegal betting.
As football betting became prevalent, the HKJC became approved to offer it in hopes of putting an end to the illegal and off books betting. The lottery had been running for 32 years, but the intent was to bring it in-house so that it could be regulated.
Further Reading on Hong Kong Gambling History and Gambling Law
Lucky Numbers, Triplets, Quartets in Horse Racing: Hong Kong by Igor Stukanov
Each chapter in this book covers a one-year period on a specific group of tracks. It discusses the daily lucky numbers and how they equate to racing, trifectas, and superfectas. It's not only an interesting read for horse racing enthusiasts but mathematicians as well.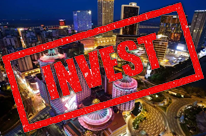 Hong Kong Gambling Industry Investment and Business Guide by USA International Business Publications
The business guide provides more comprehensive information on the gambling industry in the city of Hong Kong as opposed to some light, enjoyable reading. It's for someone who wants to get more granular with corporate information.
A Borrowed Place: The History of Hong Kong Hardcover – October 1, 2022 by Frank Welsh
Amazon describes this book as "A sweeping history of Hong Kong, Britain's last colony, documents court intrigues of London and Peking, the heyday of the British Empire, economic development, its role as a refuge from mainland Chinese communism, and the 1997 return to Chinese sovereignty." It includes the role of gambling in society and how it affects the economy.
Hong Kong Gambling FAQ
What is Mahjong?
Mahjong is a game that originated in 500 BC and is played throughout Asia. Although it's played with tiles, it's similar to the game of Rummy, as the tiles need to be matched up in pairs. It can also be played online as Solitaire Mahjong. It combines both skill and chance, and it can offer different stakes.
As legal gambling opportunities are limited in Hong Kong, do residents frequently visit Macau?
Yes. Residents of Hong Kong are the second largest group of tourists that take advantage of Macau's gambling locations.
What is the purpose of having the Hong Kong Jockey Club?
Not only is the HKJC the government-approved entity that oversees legalized gambling, but having an organization of its nature ensures that profits from betting are invested back into the community. It provides significant tax revenue and has been an integral part of social movements in Hong Kong. Some projects include the Life-wide Learning Fund, the Centre for Health Protection, and the Jockey Club Youth Development Football program.
In Summary
Whereas many locations have some grey areas when it comes to the ins and outs of betting laws, Hong Kong's is very streamlined and straightforward.
Anything offered by the non-profit Hong Kong Jockey Club is entirely permissible by law to customers 18 years of age or older. And, within those parameters is an abbreviated menu of gambling opportunities, just limited to three options:
Football Betting
Horse Racing
Mark Six Lottery
Even though Macau is just a short ferry ride away and provides Hong Kong residents with access to casino gambling on a massive scale, staking wagers within the confines of Hong Kong is regimented. Bettors can receive up to nine months in prison and will need to pay HK $30,000. But, anyone tried and convicted of providing illegal betting services can spend up to seven years of incarceration and needs to come up with a hefty HK $5 million in fines.