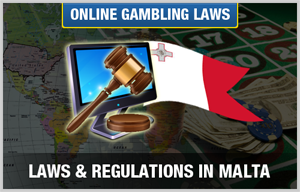 Malta is a member of the British Commonwealth and an independent. It's also a member state of the European Union (EU). It was the first within the EU to introduce regulation of online gambling.
Currently it's one of the largest online gambling jurisdictions and a popular location for gambling sites to seek licensing.
A notable benefit of being licensed in Malta is that the jurisdiction is on the "white-list" issued by the United Kingdom Gambling Commission. This means operators with a Maltese gaming license are able to advertise their services to UK residents. Other benefits include competitive licensing fees and appealing tax rates.
We have provided more information below about the gambling jurisdiction of Malta.
Gambling Legislation in Malta
When Malta began licensing online gambling sites, it did so under the Public Lotto Ordinance. The legislation was subsequently overhauled and regulation is now in accordance with the Lotteries and Other Games Act of 2001.
An addition to this act in 2004, they created the Remote Gaming Regulations. Under the terms of this legislation there are four licenses that operators can apply for. These are as follows.
Class 1, covering casino-type games, skill games, and online lotteries.
Class 2, covering fixed odds betting, pool betting, and spread betting.
Class 3, covering peer to peer gaming and betting exchanges.
Class 4, which is for software vendors.
Operators may apply for multiple licenses, which are issued for five years at a time. There are a number of requirements and conditions that must be met before a license is awarded.
For the most part, these relate to the proper operation of interactive games, the protection of players, and the prevention of money laundering. One specific requirement is that a significant part of operations must be physically located in Malta.
Once awarded a license, licensees have to adhere to a number of additional conditions. Among other things, they have to maintain proper financial records, have data protection procedures, and have policies covering responsible gambling.
Licenses can be revoked at any time and certain actions by licensees require written approval.
Lotteries & Gaming Authority
The (LGA) is the organization responsible for regulating all gambling activity in Malta, including the issuing of licenses to online gambling operators.
The LGA carries out a thorough investigation before awarding such licenses. There are currently over 500 gambling sites that are licensed by the organization.
While the LGA is considered stringent in its licensing activities, it has come under criticism for not being active enough in relation to customer complaints. Any customer of an LGA licensed gambling site may submit complaints directly to the LGA, but the organization doesn't have a great reputation for taking much interest.
In the future, people hope that the licensing authority will improve in this area.
Malta Remote Gaming Council
The Malta Remote Gaming Council (MRGC) was launched in 2005, and is made up of stakeholders from all parts of the online gambling industry. It was initiated by the LGA with the main objective being to provide a forum for the discussion of industry developments.
By receiving feedback on such developments, the LGA is able to stay informed about what is happening in the industry.