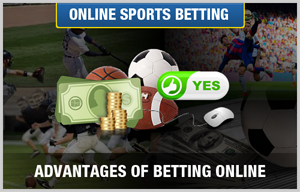 We've been betting online for over 20 years now. It amazes us that it has been that long already, but it's true. We started placing wagers online almost as soon as the first betting sites began appearing on the internet.
To say a lot has changed since then would be an understatement.
Online sports betting has been constantly evolving since the early days, and betting sites today have so much more to offer than they used to. The top sites in particular just keep on getting better and better, so it's no surprise to us that online betting continues to increase in popularity.
Every day there are millions of people all over the world placing their wagers online, many of which refuse to bet in any other way. And yet there are also many people who are RELUCTANT to bet online. Some have valid concerns, while others just don't know everything that online betting has to offer.
Want to know the benefits of online betting? Then you are in the right place! This article was designed to outline those advantages for you. We also address some of the common concerns that people have.
It's Convenient
Imagine you're at home on a Sunday afternoon, waiting for the big game to start. You find out that the star player for one of the teams has picked up an injury during the warm-up, so they won't be playing. You decide that the other team is now very likely to win, so you decide to bet on them.
What do you do?
Well, the answer is simple if you bet online.
Turn on your computer or laptop, or pick up your phone or tablet.
Visit a betting site and log in.
Deposit some funds into your account if it's not already funded.
Place the wager.
Get back to the game.
Pretty convenient, right? The whole process should take a couple of minutes at the most.
What do you do if you DON'T bet online? That depends on where you live of course, but chances are there may not be many options.
If you live in America, but not in the state of Nevada, you're basically stuck. Nevada is currently the ONLY state where land-based bookmakers and sportsbooks can legally offer a full range of betting options on a variety of sports. So unless you want to deal with an illegal bookmaker, placing a wager is not an option.
Maybe the sports betting laws aren't quite so limiting where you live. For example, let's say you live in the United Kingdom. Now, you have a few more options to explore. You can pick up the phone and use a telephone betting service: if they're open on a Sunday afternoon that is. Or you could take a trip to the nearest bookmaking shop, and place the wager there. Perhaps you'll make it home in time to catch the last few minutes of the game.
Obviously, you're not always going to be in such a hurry to place a wager. But even when you're not, why make things harder than they need to be? Regardless of where you live, betting online is THE most convenient way to bet. There's no arguing with that fact.
The convenience of using betting sites is arguably the single biggest reason why online betting is so popular.
There's no need to leave the house. There's no need to pick up the phone and talk to anyone. There's no need for any physical cash. You can place a wager at any time of the day or night, from the comfort of your own home. Or from anywhere in fact, if you have a mobile device with internet access.
Seriously, why would you bet any other way?
Perhaps you're worried that online betting is not safe. Don't be!
It's Safe
It's entirely natural to worry about the safety of online betting. Plenty of people get nervous about signing up with a betting site and depositing real money. Here are the concerns we hear most often.
Will the site disappear with my money?
Will my personal banking details be at risk?
Will the site refuse to pay me my winnings?
As common as these concerns are, they're all relatively unfounded. There's very little chance of a site disappearing with your deposited funds, compromising your banking details, or refusing to pay out your winnings. This is especially true if you're careful about which sites you use.
Most online betting sites are reputable operations. They're licensed and regulated, so they HAVE to adhere to certain rules. They couldn't get away with ripping you off even if they wanted to. And they really don't want to anyway. They're legitimate businesses that are required to meet certain standards. They can definitely be trusted to look after your funds and personal information.
There are some exceptions of course. We'd be lying if we said that every single sports betting site on the internet is 100% legitimate and trustworthy, but the shady sites are few and far between these days. Plus, they are easy to avoid! You just need to do a little research before signing up with a site, to make sure that they hold a proper online betting license. If they're licensed by a genuine licensing authority, you have nothing to worry about.
Alternatively, you could just stick to our list of recommended betting sites.




Each and every one of our recommendations is thoroughly vetted, to ensure that they are completely safe to use. We NEVER recommend a site unless we're absolutely certain that they can be trusted.
So there's honestly no need to worry about whether online betting is safe. It is. In fact, it's actually SAFER than some of the alternatives. This is simply because there's no need to carry any actual cash.
You never know who's watching when you pick up your winnings in a bookmaking shop or casino sportsbook. Win a substantial amount and you might just attract the wrong kind of attention. It's not unheard of for bettors to have their .
Okay, so chances of this happening are pretty slim, but the risk is still there. A risk that you DON'T face when betting online. Most sites offer a range of options for withdrawing any winnings, and none of them involve you having to carry a bag of cash around. We think that's a distinct advantage.
It's Easy
Visiting a bookmaking shop or casino sportsbook can be quite daunting for the inexperienced sports bettor. It's not always immediately obvious how to actually go about placing wagers, or what the different options are.
Betting online, however, is not intimidating at all. Opening an account is a straightforward process which takes just a few minutes. All you have to do is enter some very basic information, and maybe choose a username and password.
Depositing funds is just as straightforward. First, you choose a deposit method and submit the relevant details. Then you simply enter the amount you wish to deposit, and the funds will be in your account and ready to use.
It's then a simple matter of finding the markets you want to bet on and placing your chosen wagers. Guess what? That's easy too. There'll be a list of all the different sports covered somewhere on the site, so you first have to click on the relevant sport. That will bring up a list of all the upcoming events for that sport. Clicking on the relevant event will bring up a list of all the available wagers. Then you just have to make your selection and enter your stake.
That's all there is to it.
The Odds & Lines Are Better Online
Every bettor should know the importance of getting the best possible odds. The better the odds, the bigger the potential returns. Even just getting slightly better odds can have a HUGE impact on your overall profit margin.
Want to know an easy way to get better odds?
On average, the odds available online are a little better than those available elsewhere. This is yet another significant advantage of placing wagers over the internet, and one that will directly put more money in your pocket.
If you're really committed to getting the best possible odds (and you should be), you can even open accounts at a number of different sites and then compare the available odds whenever you place a wager. The odds can vary from one site to another, and some places might be particularly competitive for certain events but not so great for others. Finding the best odds for every wager can be a little time consuming, but it will be time well spent.
There are Perks Available Online
We all love perks, right? It's nice to get a little something extra every now and then. And that's exactly what you'll get when you bet online.
There are lots of betting sites on the internet. And when we say a lot, we really do mean it. We've never actually counted ALL of them, but we can safely say there are at least a few hundred to choose from. And they all share one thing in common.
They want YOU as a customer.
The more customers a betting site has, the more money it makes. It's a pretty simple equation. So these sites work really hard to attract new customers, which is good news for you. Why? Because one of the ways betting sites try to attract new customers is by offering them bonuses.
Almost every betting site offers a signup bonus to new customers. This usually takes the form of a free bet, free play betting credits, or extra funds added directly to your account. Basically, you make a deposit and get extra money to bet with. Since these bonuses have certain terms and conditions attached, they're not technically 100% free. Still, they're a nice perk to have!
The perks don't stop there either. When betting sites get a new customer, they want that customer to stick around. So most of them offer additional bonuses to their existing customers too. They might offer a bonus on the first deposit of every month or even the first deposit of every week. Although this is rare, some sites even offer bonuses on EVERY single deposit!
A lot of sites offer other perks on top of regular bonuses. These might include some or all of the following.
Cashback on losses
Rewards based on wagering activity
Enhanced odds on selected events
Prize draws/competitions
Wagering leaderboards
Tickets to sports events
Do you think you'd get all this when betting in a bookmaking shop? Or in a casino sportsbook? The answer is a resounding no. Spend enough money and you might get a free drink or two, but that's about it unless you're a serious high roller.
You can read more about the perks available at betting sites in these two articles.
There is More Variety Online
All land-based bookmakers and sportsbooks cover the major sports and the big events. Most of them cover a few additional sports too, and maybe the occasional smaller event. Very few offer extensive coverage on all professional sports though.
It's a different story online. There are many betting sites that cover pretty much every sport that's played professionally. And they cover pretty much every event for these sports too. Want to bet on a second division soccer game in Ukraine? Not a problem. Want to bet on a ski-jumping competition in Japan? That won't be an issue either.
It doesn't matter how obscure the event, or how minor the sport. You'll always be able to bet on it online. You can even bet on professional video-gaming competitions these days!
To demonstrate the variety that's available online, here's a list of just SOME of the sports that are covered at one of our preferred betting sites.
Football
Soccer
Basketball
Baseball
Golf
Tennis
Hockey
Boxing
Mixed Martial Arts
Motor Racing
Cricket
Rugby
Snooker
Darts
Bowls
Gaelic Sports
Futsal
Speedway
Alpine Skiing
Volleyball
Badminton
Handball
Netball
Table Tennis
Water Polo
Trotting
Athletics
That's more than enough variety for anyone!
Most betting sites offer excellent variety in terms of the available wagers too. From simple wagers to the more exotic ones, there's always plenty of choices: especially when it comes to prop bets and specials. It's not uncommon to see upwards of 100 different prop bets available for a single big event.
So it's fair to say that you'll never be short of an opportunity to get your money down when betting online. And we haven't even mentioned live betting yet.
Live betting, also known as in play betting, allows you to place wagers on sports events after they've already started. This gives you a big advantage, as you can actually watch an event to get a feel for how things are going before deciding where to put your money. It also presents a whole new range of different wagers, for even more variety.
Are There Any Disadvantages to Betting Online?
There's only one disadvantage to betting online in our opinion. It possibly makes it a little TOO easy to bet on sports. This is potentially a real issue for anyone who has difficulty controlling their betting. It could mean they end up spending more than they can afford, which could potentially lead to a betting addiction.
Does this single disadvantage outweigh all the advantages we've discussed in this article? We don't think so. It's not that we don't take problem gambling seriously, as we absolutely do. We repeatedly stress the importance of responsible gambling throughout our website, and we've written the following article that addresses the subject in detail.
Anyone who struggles with gambling addiction should avoid gambling altogether. This is much easier said than done. One encouraging component of online gambling is that sites are very aware of the potential downsides of problem gambling and many of them do have measures in place to deal with those types of situations. They offer their customers the option to self-exclude on a temporary or permanent basis, or to set limits on the amount they can deposit. So it could be argued that it's EASIER for someone to control their gambling when betting online.
Summary
We fully understand why some people are reluctant to bet online. We also understand why some people question whether it's really that much better than other forms of betting. The concerns that we mentioned earlier are reasonable, even though they're ultimately unfounded.
The whole point of this article was to explain that there's really no need to be concerned and that there are several extremely good reasons to bet online. We hope this article has convinced you to try it out for yourself, as we're confident that you'll be very glad you did.
Just remember that it's VERY important to use the right sites. This not only ensures that you'll be completely safe, it also means that you'll have the best possible experience. The top sites, like the ones in our list of recommendation, really do stand out among the rest.